In the 10th anniversary year of Saitek's Cyborg range of peripherals, the company has revealed its first Cyborg gaming mouse - due for release next month alongside the Cyborg gaming keyboard.

In an attempt to stand out from the crowd, the Cyborg mouse sports a novel design.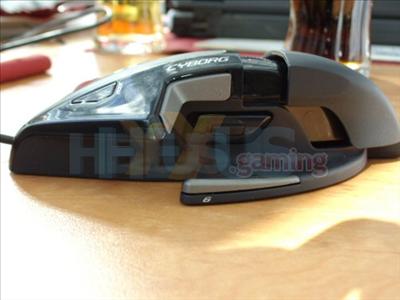 As you can see from the pictures, your thumb rests neatly on an extended part of the mouse and immediately to the right of it there's a d-pad that can be manipulated with ease with the side of your thumb…we'll come to that in a moment.

On the underside of the mouse is a scroll lock, labelled 1-3. This lets you adjust the strength of the click on the scroll button. We had a fiddle around and there's a noticeable shift between the pressure that you need to exert as you switch between the three stages, so it's an addition that may please some fussy gamers.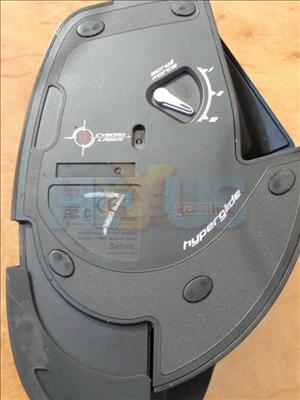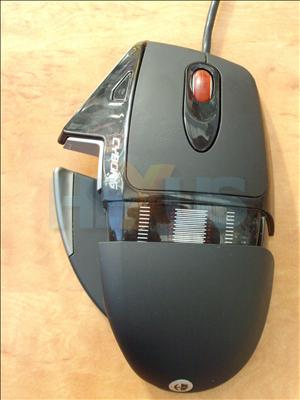 The coolest thing - though it could be seen as a bit of gimmick - is that you when you hold down the mouse button and wait for it to flash red, you can then use your thumb to press the d-pad backwards and forwards to extend the base.

It can be manipulated up to 15 millimetres so that it fits virtually any hand shape. I've got really long fingers [the better for holding long German sausages - sub-editor] and they're often hunched up over the mouse I currently use for gaming (the OCZ Equalizer), so the function would be handy for me to be able to change to a more comfortable position.

However, once you've found the size of mouse that suits your requirements, the need for having such a feature does seen unnecessary.

But if you do share your mouse with someone in your home, or merely want to change the way it feels, then the option is always there. I quite liked the feature, though, but largely because of the cool motorised sound that it makes as you move it back and forward.

In the Cyborg range, Saitek has already released the 5.1 gaming headset, which hit stores at Christmas, and the Cyborg mouse will be released shortly with a retail price of about £40.