Imitation is the sincerest form of flattery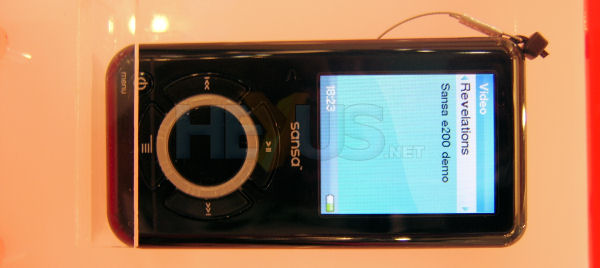 Walking past the SanDisk stand, you'd be forgiven for thinking someone had dropped their iPod Nano on the booth. No prizes for guessing where the inspiration came from.

SanDisk's Sansa e200 cuts a Nano-like profile in most respects. It, however, outspecs. Apple's offering by having an up-to 6GB hard disk, built-in FM radio, and microSD expansion slot for enhanced storage capacity and easier sharing. Unsurprisingly, the 1.8" screen can also be used to display photos, a la Nano.

It's also a little larger and, crucially, bulkier than Apple's litte wonder but features a stronger, scratch-resistant cover. Sound quality, we reckon, is on a par with the Nano, and the 2GB model retails for around £110, so it's marginally cheaper, too.