Garmin has expanded its range of GPS sports watches with the launch of the Forerunner 610.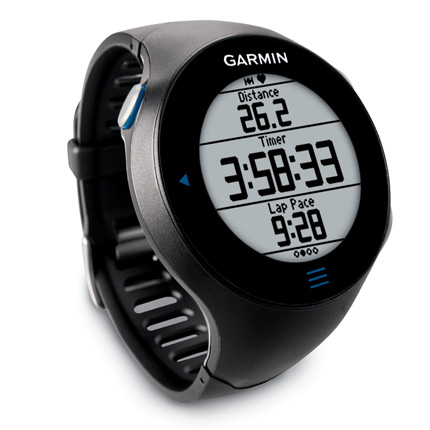 Introduced as the first GPS Forerunner to feature a touchscreen interface, the 610 slots in at the top of the Forerunner range and has a feature set that reflects its £329.99 price tag.
Despite the use of a sleek, streamlined design, the 610 integrates a 128-pixel touchscreen display that enables users to tap, swipe and scroll through menus. It's water resistant, so a little rain or sweat shouldn't hinder the touch interface, and Garmin tells us it's sensitive enough to function with running gloves.
Sounds like it could be fiddly when you're out of breath or moving quicker than the wind, but the touchscreen could help navigate through the 610's long list of features. As the flagship Forerunner, the watch accurately records distance, pace, GPS position, heart rate and calories, and there's a built-in vibration monitor that delivers subtle alerts when audible tones won't suffice.
In keeping with previous Forerunner models, the 610's recorded data can be synchronised and scrutinised using the excellent online Garmin Connect running community, and with the new Virtual Racer feature, you can compare your own times to any others uploaded to the Garmin site.
Garmin's online store states that the Forerunner 610 will be shipping in Q2, but if you're eager to get your hands on one prior to the weekend's London Marathon, a limited number will be on sale starting today at the London Marathon Expo (stand #230, Halls N1-N8).