VIA is of the belief that there exists an untapped portion of the mobile market that hankers for a fully-fledged device that's more feature-rich than a smartphone or PDA but not quite so cumbersome as a sub-notebook.

A better way to do ultra-mobile PCs, if you will.

The newly-announced VIA NanoBook UltraMobile Device claims to be practically all things to all road warriors. You can visually determine just how small it is by the comparison K800i phone - and no, we don't get paid to advertise Sony's phones. It happens to be this hack's paid-for handset.

The fully-functional sample at COMPUTEX 2007 weighed in at around 850g (including battery) and featured a 7in touchscreen WVGA TFT (800x400), full QWERTY keyboard, an ultra-low voltage VIA 1.2GHz C7M processor, 30GB hard drive, WiFi, and Bluetooth.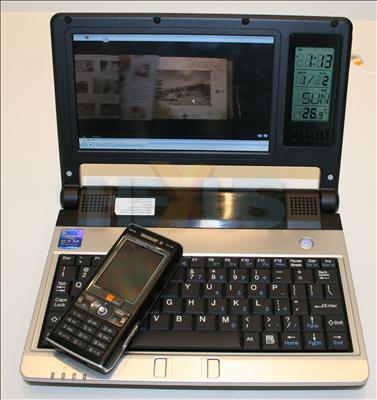 Interestingly, rather than make the screen larger, VIA has sought to include an add-in MobilityPLUS module, as seen on the right. The module can be unclipped in a cinch and replaced with others that, for example, feature GPS, a Bluetooth VoIP phone, DVB, a 3G phone, etc. The idea it to enable users to augment the NanoBook with features that make the most sense.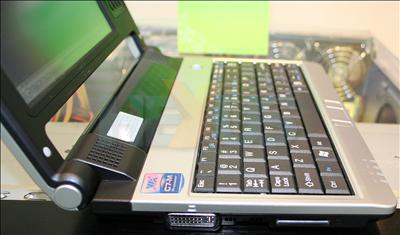 The left-hand side is home to a DVI-out port, for hooking-up with your main monitor. The NanoBook also features a 10/100 LAN port, a 4-in-1 media-card reader, a couple of USB2.0 ports, and supports Windows XP and Vista. VIA will release the NanoBook in a number of colours, as well.

Graphics are provided by the UniChrome Pro II IGP, which, whilst absolutely no competition for the cheapest discrete cards, was able to render Quake III at an acceptable framerate. Battery life is reckoned to be around 4 hours from the standard 4-cell battery.

Finally, pricing is mooted to be around the $600.

Our initial impressions were that the keyboard was a little too small and stiff to be used for extended periods. We'd recommend users opt for the maximum 1GiB DDR2 SODIMM immediately, especially if running Vista. Still, given the weight, or lack thereof, and the reasonable asking price, VIA may well have a winner on its hands.