Pre-orders for Apple's fourth-generation smartphone - the iPhone 4 - appear to have sold out.
Having been made available just yesterday, Apple stores in the UK and US are today advising customers that any new pre-orders won't be met until July 2nd, a week after launch.
Although Apple hasn't disclosed how many handsets were made available as part of the initial batch, early demand appears to be strong.
According to reports, US customers initially struggled to place orders due to the buckling demand on AT&T servers, with technology blog Gizmodo revealing that AT&T's inability to cope may have led to the exposure of private customer data.
AT&T responded to the issues citing "incredible interest in iPhone 4", adding that Tuesday June 15th "was the busiest online sales day in AT&T history".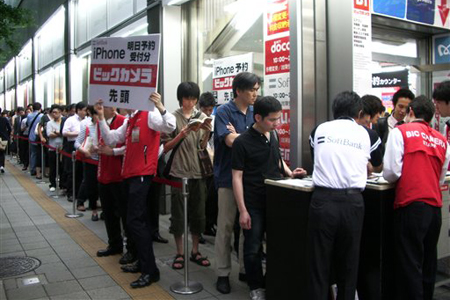 Demand also proved to be strong in Asia, where Japanese consumers lined up for hours in an attempt to ensure iPhone 4 delivery on launch day, June 24th.
Despite the early rush, high-street shoppers should still be able to purchase an iPhone in-store at launch as Apple is expected to reserve stock for walk-in customers.