Toshiba looks set to be the first company to introduce HD DVD set-top players into the US market. Two models are promised for March, one at $800 (HD-XA1), the other $500 (HD-A1).



Both will have multi-channel audio decoders for Dolby Digital, Dolby Digital Plus, Dolby TrueHD, DTS and DTS-HD but the $300 premium for the XA1 buys added audiophile features and a range of "refinements expected of a high-performance player".

On the audio side the HD-XA1 has four "high-performance" digital-signal processing engines. These DSPs are said to add extensive on-board multi-channel signal controls, including user-selectable crossovers, delay management and channel-level management.

Refinements are reckoned to include a motorized door concealing two front USB ports (for connecting gaming controllers), some function buttons and the disc drawer. Also on the list are three user-selectable interfaces and a remote handset with a motion-activated backlight.

Among features shared by the two players are the inclusion of new Broadcom video-decoder chips and HDMI (High Definition Multimedia Interface) connectors that offer the ability to output uncompressed digital video and multi-channel audio through a single cable.



Toshiba HD-XA1 - due March in the USA at $800


In the case of the two Toshibas, HDMI output will be in copy-protected 720p or 1080i format. This can be HD DVD native or standard-def DVD that's been up-converted by the players themselves, a process claimed to keep signals free from excessive digital-to-analogue conversion artefacts.




Toshiba HD-XA1 - note the tiny HDMI
connector alongside the trio of component outputs


The new HD DVD players can pass digital information to a surround-sound processor via HDMI or S/PDIF or HDMI. For Dolby Digital and DTS, the bitstream will be passed through both connections. The same is true for Dolby Digital Plus and DTS-HD but the signal is first converted to a standard bitstream format required by compatible processors. In addition, all audio formats for HD DVDs and standard DVDs are decoded to PCM and output via HDMI as stereo or multi-channel signals.

Toshiba says that each model uses a double-chassis construction to add stability and to reduced vibrations that might arise from HD DVD discs spinning faster than standard DVDs – with the HD-XA1 having the added benefit of insulated stabilising feet..

Perhaps no less important than the features of the products themselves are Toshiba's plans for a supporting "extensive integrated marketing communications campaign". This is intended to create consumer awareness for HD DVD and to support retailers with promotional and training activities.

A teaser site - http://www.toshibahddvd.com/ - was recently launched and a full site dedicated to HD DVD is promised shortly. The teaser site aims to educate consumers. The full site will continue doing this but also carry information about hardware, movie discs and software, along with links about where to see product demonstrations and buy and pre-order players.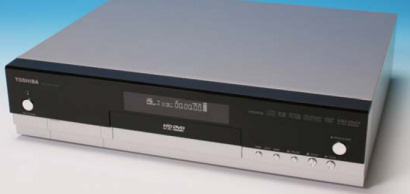 HD-A1 due March at US$500


An "extensive" spring advertising campaign is scheduled, with the theme "So real you can feel it". This slogan will be echoed on supporting material and the web, and is intended to make would-be purchasers aware of HD DVD's benefits.

Prior to launch, Toshiba is planning staff training for many of the top electronics retailers across the country - in-store demos will begin next month and target the top 38 TV-viewing markets in the USA.

Toshiba will be offering retailers HD DVD product displays designed to inform consumers and give the format a highly-visible in-store presence. There's an option, too, for displays to carry HD DVD software. The HD DVD displays are intended to chime in with Toshiba's current HDTV in-store presence – with consumers being offered "incentives" to buy players and TV sets together.

For additional information visit Toshiba Consumer Products US home site: http://www.tacp.toshiba.com.