Banging on an old theme at its press conference at CES 2010, Toshiba intimated that 2009 had been a difficult, challenging year. 2010, though, offers greater opportunities of growth. it said.



Trends



Somewhat predictably, Toshiba reckons that declining average selling prices of flat-panel TVs means that, through economies of scale, only the big-name manufacturers will grow market share in the years to come. TVs will need to be more than just standalone devices, said the company, and premium flat-panel sets will require a mixture of better image processing and interactivity, starting in 2010.



More than just a TV - introducing CELL TV



Preaching on this fact, Toshiba is launching CELL TVs as its premium line of LED-backlit TVs for 2010. Heard of CELL before? It's the same chip that features in the PlayStation 3, and Toshiba says that the very best televisions of 2010 will need separate, powerful computing logic to process superior imagery and to enable full, rich online interactivity.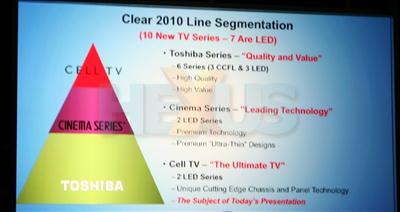 The CELL TVs, to be launched in Genesis and Illusion models, will ship with screen sizes up to 65in and have the usual plethora of image-processing features - 480Hz scanning, 9,000,000:1 contrast ratio, ultra-high brightness, etc.

Toshiba also says that have a dedicated compute chip will help deploy features such as advanced 3D TV - watchwords for 2010 - and fundamentally better upscaling algorithms.



Entertainment server



The premium TVs will also have wireless connectivity and video-conferencing support, again made possible by CELL. We're not sure how much of this is bombast and bluster and how much is fact at this early stage, as most rivals espouse similar feature-sets.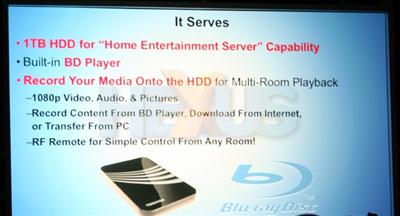 What's rather cooler is that the two new CELL TVs will have a built-in 1TB HDD that will facilitate the set acting as a home entertainment server.

We wait to test one with bated breath, to see how it compares against the best from Samsung, Sony, et al.