Sony revealed its award-winning Crystal LED display system for cinema and presentation uses at the NAB trade show in April. At the time the modular system was touted as a solution for entertainment venues, corporate events and digital signage. However, Sony now has decided to offer its modular system (with installation) to residential customers.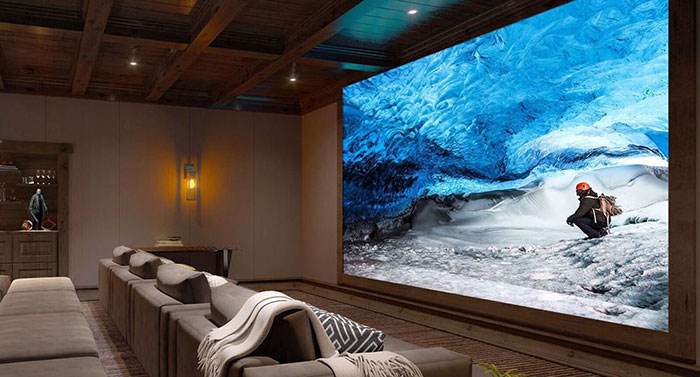 Home users could use the Sony Crystal LED display system for an "unrivalled home theatre technology capable of displaying 8K HDR video content and beyond – up to 16," suggests Sony. The options available start at very big, and move along quickly to massive. Measurements of sample configurations, including traditional diagonal inch measurements, are provided in the table below. However customers can make their own custom displays with the borderless modules.
FHD Size (18 Units)

~110-inch Diagonal

~8ft (W) x 4ft (H)

4K Size (72 Units)

~220-inch Diagonal

~16ft (W) x 9ft (H)

8K Size (288 Units)

~440-inch Diagonal

~32ft (W) x 18ft (H)

16K Size (576 Units)

~790-inch Diagonal

~63ft (W) x 18ft (H)
Sony's Micro LED panels measure 16 x 18-inches in size with a 360 x 360 pixel resolution, offering three LEDs per pixel. Each pixel is capable of outputting 1000nits, and the screen boasts a 99 per cent black surface giving excellent contrast (over a million-to-one contrast ratio). Colour reproduction is claimed to be excellent with 10-bits of greyscale, very accurate HDR colour reproduction (140 per cent of sRGB). Further important qualities of this modular display are a refresh rate of up to 120Hz and wide viewing angles.

All the above tech sounds very enticing, until we come across the thorny issue of pricing. Engadget reports that each Sony Micro LED panel unit costs approx US$10,000. That means that the FHD 110-inch installation would cost $180,000, and the 16K 790-inch TV would cost approx $5.8m to purchase. The system looks great for a video wall in a modern living space, as you can see from the images above. It is also an attractive option for your super yacht, thinks Sony.