There's plenty of interest in the BBC and ITV venture, Freesat, which launched across the UK yesterday. And rightfully so, HD programming with no contract and no subscription makes it a highly tempting service.
Though Freesat broadcasts are free, users wanting to take advantage of the service will be required to make a one-off purchase of a digital box and satellite dish. In steps Humax, who has unveiled its Freesat-supporting digital box, the FOXSAT-HD.
Pictured below, the FOXSAT-HD comes in a black finish and though appearing a little bare, achieves a somewhat smart look. The box comes complete with an HDMI cable, scart cable, remote control and batteries, and there's a four-step setup wizard to help users get up and running easily. An electronic programme guide (EPG) is essential these days and the Humax box will provide Freesat viewers with a fully-featured seven-day guide that'll provide reminders and search functionality.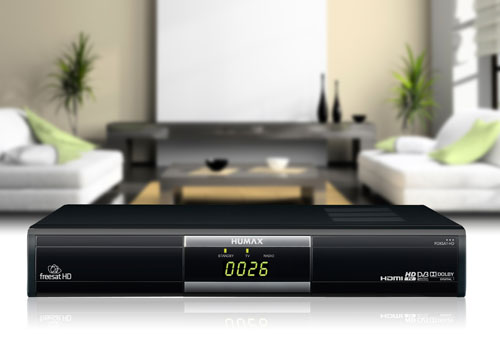 Its specifications, as provided by Humax, are as follows:
Receiving HDTV signals (MPEG-4 AVC/H.264 and MPEG-2)
Under 1W power consumption in standby
HDMI - digital interface for perfect transmission of picture and sound
Simultaneous playing of transmissions over HDMI, YPbPr or Scart
Easy installation and operation
Resolution format: 1080i, 720p, 576p, 576i
DVB-S2 and DVB-S compatible
Ethernet support
Full colour, high resolution electronic program guide
Dolby digital audio output (S/PDIF)
Automatic software upgrade via satellite
Improving SDTV on a HD LCD TV
Audio description / One touch subtitle
Dimensions (Width x Height x Depth): 280 x 45 x 200mm
Weight: 1.5kg
There's no support for 1080p, but you won't find many full-HD broadcasts anytime soon, the BBC's own BBC HD currently transmits programmes using the 1080i standard.
The on-board Ethernet port is currently inactive, but Humax states that, in future, users will be able to take advantage of interactive services and additional content via IP. That then is an early indication of on-demand content coming to Freesat somewhere down the line.
Graham North, commercial director, Humax, commented: "The launch of Freesat is an exciting milestone, bringing subscription-free HD programmes to almost every home and providing a new way for TV viewers to embrace the UK's switchover to digital. Humax is committed to delivering high quality products across cable, terrestrial and satellite platforms and the launch of the FOXSAT-HD for Freesat reinforces our position as a technologically advanced digital TV brand that is at the forefront of the UK TV sector."
The Humax FOXSAT-HD is available to buy from John Lewis, Comet, Argos and Currys and other retailers, priced from £149.99. It should be noted, however, that installation will be charged as extra at point of sale.
Are you intrigued by Freesat? Have you already placed an order? Share your thoughts in the HEXUS forums.
Official product page: humaxdigital.com/freesat