LG OLED burn-in
Back in July HEXUS wrote about the burn-in issue evident on LG C7 OLED TVs at a trade show in LA. Now there has been a follow-up by RTINGS, via ZDNet, which discusses a test of six LG OLED TVs.
The RTINGS test (YouTube video link, or watch above) tries to simulate natural but accelerated viewing behaviour of TVs over the last six months. The six units were turned on for five hours then off for 1 hour, on a cycle four times per day. During the six months testing so far, each TV has thus been running for 4,000 hours. Previously LG has stated that its TVs can run for 30,000 hours (equivalent of 10 years use with 8 hours viewing per day) before any image burn-in occurs.
In other test details; the two left-most TVs were tuned to CNN with its white and red lower screen status block, the top CNN watching TV ran at max brightness during the test period, the lower one at 200nits. The other test TVs were tuned to the following content (200nits brightness); American football, Live NBC, FIFA 18 gameplay, and Call of Duty: WWII gameplay.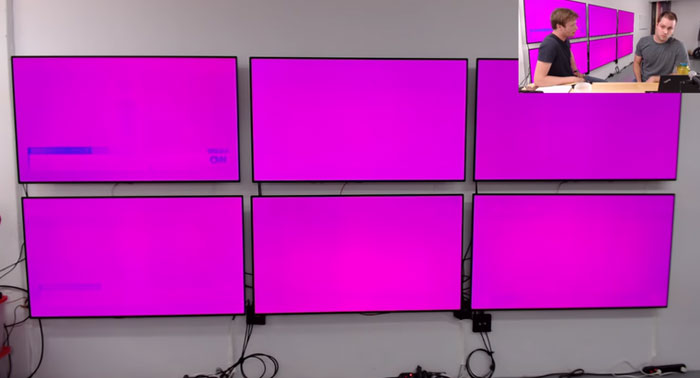 Checking out the video you can clearly see the undesirable impact of a static solid colour banner, like on CNN, on the TV's image over time. Displaying solid magenta seems to show the image retention effect at its worst in this test (see video still above). As well as the obvious CNN banner burn-in, the FIFA 18 logo was slightly visible in the solid colour checks but the NBC and sports channels showed no such issues.
LG includes 'pixel refresher' technology which moves static images to prevent image burn-in but it would seem like it is ineffective on large blocks and RTUINGS says it causes uniformity issues. The RTINGS tests are ongoing (for a year) and updated regularly.
Sony firmware fail
In a recent Forbes report, Sony OLED TVs are claimed to be affected by an irksome bug. On recent Sony A1 and A8F (AF8 in Europe) OLED TVs users have been complaining that the display will suddenly and severely dim down across the whole screen if there is any constant static image element visible for over a minute.
To me it sounds like Sony has tried to implement an intelligent feature to reduce/eliminate screen burn, and perhaps save energy, when a TV image is paused and the viewer goes away to do something else. However, the dimming occurs in video games with static HUD overlays and sporting events with static on-screen elements too. Thus Forbes claims that the feature spoiled the recent World Cup for many sports fans and spoils the "vast majority of video games".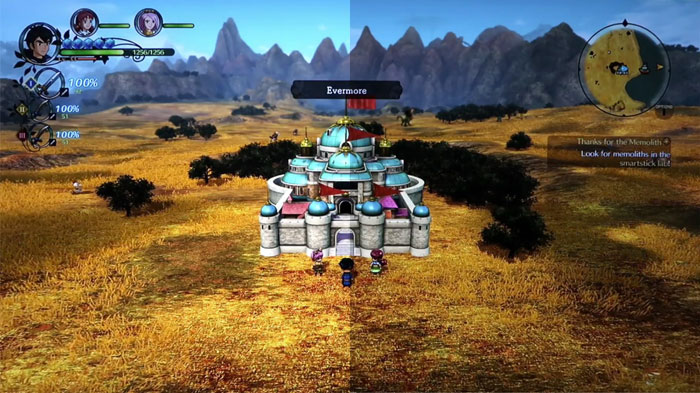 Game before/after dimming occurs
Frustratingly, a recent firmware update did little if anything to address this 'issue', the dimming looks somewhat less severe, so it might indeed be a 'feature' designed to prevent burn-in.