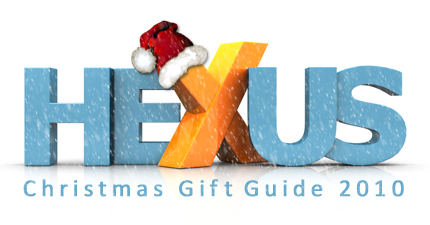 It's that time of year again. The HEXUS editorial team recently attempted a bout of Christmas shopping at Birmingham's Bullring, and the massive crowds coupled with the coldest November temperatures since 1985 have convinced us to realise an obvious truth; it's easier, warmer and more convenient to get your shopping done online.
To that end, the team has put heads together and come up with a series of 10 technology gift guides that we hope will help take the guesswork out of your 2010 Christmas shop. Over the next fortnight, we'll be suggesting a wide range of gear that we ourselves wouldn't mind finding under the tree come December 25th.
Part three focuses on home entertainment, and let's face it, December is the best time to convince the other half that all you need for Christmas is a new 50in panel for the living room. Here are our top picks in various shapes and sizes, as well as a couple of add-ons that'll help bring the most out of your TV viewing experience.
TVs around the house
SOVOS Flipdown Kitchen TV

Think you'll be spending most of your Christmas in the kitchen? You needn't miss out on the 1,000th re-run of James Bond classics as there's a kitchen TV that 007 himself would have been proud of. The SOVOS Flipdown, pictured above, fits neatly on the underside of a kitchen cabinet so as to save previous worktop space and features both an integrated DVD player and a Freeview TV tuner.

Prices start at around £280 for a 10in model and detailed specifications are available at SOVOS.co.uk.

Price: from £280 at buycleverstuff.co.uk

Waview Waterproof TV

Picture this; a hot bath, a glass of mulled wine, a mince pie and the annual Eastenders Christmas Special. It could all be made possible by Waview's range of waterproof TVs. Designed for use in the Bathroom, the TVs are IP66 waterproof certified and can be used in "very wet environments". Display sizes range from 15in to 32in, and all models are HD-ready with HDMI output and an integrated Freeview tuner.

Here's the really clever bit; the "mirror" models, priced from £799, can be used as standard mirrors when the tele is turned off.

Price: from £799 at waview.co.uk
32in LCD TV
Sony BRAVIA LCD TV (KDL-32EX503)

There's a dizzying array of 32in TVs to choose from, but they don't come much better than Sony's award-winning BRAVIA KDL-32EX503.

This 32in LCD offers full-HD 1080p visuals, a smooth 100Hz refresh rate, and a built-in Freeview HD tuner. It's DLNA compliant and can be connected to a network for media streaming, and Sony's BRAVIA Internet Video service offers popular apps such as BBC iPlayer, YouTube and Facebook. Four HDMI inputs provide ample connectivity options, and if you're worried about power draw, the BRAVIA includes a number of eco settings designed to help cut down those winter bills.

It's an impressive set, but here's the icing on the cake: Sony is running a "get the VAT back" promotion right up until Christmas Eve. All the details are here.

Price: £499 at amazon.co.uk
40in LED 3D TV
Samsung 7000 Series (UE40C7000)

Still not convinced about 3D TV? Either way, Samsung's 7000 Series LED TVs are feature packed, future proof and stunningly designed, too.

Our chosen 40in panel, the UE40C7000, measures just 2.65cm thick and offers everything you'd expect to find in a high-end HD TV, including an LED 1080p display, Samsung 200Hz motion technology, a built-in Freeview HD tuner and comprehensive network capabilities. The latter, dubbed "internet@TV", provides TV-based access to popular online services such as LoveFilm, iPlayer, Facebook and Twitter, and you can stream media content from your network to the TV using Ethernet or an optional wireless adaptor.

What makes the set stand out is its support for 3D TV. Hook up a 3D source, don your glasses and images will appear to jump from the screen. Be warned, however, that you'll need another 3D device to get your three-dimensional kicks - a 3D Blu-ray player, for example - and the TV is bundled with only one pair of glasses. Each additional set costs roughly £60.

Price: £1,199 at johnlewis.com
50in Plasma TV
Panasonic VIERA NeoPDP Plasma TV (TX-P50V20B)

If what matters most is stunning image quality, take a good look at Panasonic's 50in VIERA NeoPDP Plasma TV. It isn't the flashiest set on the market, but using the Infinite Black Pro technology once found in Pioneer's benchmark-setting Kuro, the new generation VIERA offers some of the deepest blacks and most vibrant colours available.

Ensuring the full-HD 1080p panel is put to good use, the TX-P50V20B incorporates both Freeview HD and Freesat HD tuners, so you're practically guaranteed free-to-air HD programming. Like the Sony and Samsung sets, Panasonic's VIERA caters for numerous online services including BBC iPlayer and Twitter, and it's easy to bring up photo slideshows using an integrated SD card slot.

Where the VIERA NeoPDP really shines, though, is movie playback. As one of few THX-certified displays, this plasma screen features a THX viewing mode that "comes as close as possible to reproducing the HD Colour Standard used by filmmakers in the studio". If you want to see your movies the way the director intended, this is probably the set for you.

Price: £1,299.99 at argos.co.uk
Blu-ray players
Sony BDP-S370

The costs associated with Blu-ray have fallen dramatically in 2010, and with HD DVD now a distant memory, perhaps it's time to step up from DVD - or, God forbid, VHS - and adopt high-def optical media.

For beginners wanting to join the Blu-ray party, few entry-level players are as feature packed as the award-winning Sony BDP-S370. Available from as little as £120, this sleek machine supports the latest Blu-ray features such as BD-Live, and will playback most other formats, too, including DivX, SACD, and almost anything stored on a USB stick.

BRAVIA Internet Video provides online access to services such as BBC iPlayer, and movie fanatics will enjoy watching films at a true 24 frames per second. Audio aficionados can also look forward to Dolby TrueHD and DTS-HD Master Audio support, and don't forget, this Blu-ray player will also upscale your existing DVD collection.

Price: £99.99 at amazon.co.uk




Sony PlayStation 3

Alright, so this one's actually a game console, but it doubles as an excellent Blu-ray player, too. And, through regular updates, it's now able to support the latest Blu-ray features - including BD-Live and Blu-ray 3D.

The fact that it can play games is a bonus, and Sony's 2010 model is designed to run cooler and quieter than previous machines, and it's 33 per cent smaller. Put simply, no other Blu-ray machine offers so many features at this price.

Price: from £229.99 at amazon.co.uk
Digital video recorders
If your Christmas issue of the radio times gets attacked by marker pen each December, what you want need is a Digital Video Recorder (DVR). There are plenty to choose from, but few are as highly regarded as those from South Korean manufacturer Humax. Here's our pick of three Humax receivers that will help ensure you never miss another episode of your favourite TV shows.
Humax PVR-9150T Freeview+ receiver

Our first set-top box is a little dated, but the Humax PVR-9150T continues to do an excellent job of managing a user's TV schedule. There's no HDMI output, no support for Freeview HD, and the 160GB hard drive will limit you to 100 hours of recording, but it's easy to use and offers one-touch recording from the electronic programming guide (EPG). You can pause or rewind live TV, watch one channel whilst recording another, and series link functionality will allow you to record every episode of your favourite show with ease.

This receiver might not be the most future proof, but it's great for mums and dads who're showing no signs of letting go of their faithful CRT.

Price: £119.99 at play.com









Humax HDR-FOX T2 Freeview+ HD receiver

At the opposite end of the spectrum, there's the range-topping HDR-FOX T2. Like the Freeview+ receiver mentioned above, this one lets you watch one channel whilst recording another, but it offers more in the form of dual DVB-T2 tuners that will pick up Freeview HD transmissions (provided they're available in your area), a larger 500GB hard drive that's able to store up to 125 hours of HD content, and full-HD output through HDMI.

The catch? This up-to-date solution fetches £299 at retail, or £349 for a 1TB model, and there are currently only four free-to-air HD channels broadcasting in the UK. You'll need to be glued to BBC One HD, ITV1 HD or Channel 4 HD in order to make the best of this.

Price: £299 at comet.co.uk
Humax FOXSAT-HDR Freesat+ HD receiver

In an area that struggles to get good Freeview reception? Not to worry, there's a satellite-based alternative dubbed Freesat. The free-to-air service is a lot like Freeview, but it's delivered via satellite and is consequently available throughout the UK. You'll need a satellite dish for it to work (an existing Sky dish will do the trick), and you'll be able to receive over 140 TV and radio channels. Pick up a set-top box like the FOXSAT-HDR, and you'll also get a couple of HD channels along with the ability to pause, rewind and record live TV. Prices start at £215 for a 320GB model, rising to £290 for a higher-capacity 500GB model.

Price: from £214.99 at dixons.co.uk




Blu-ray: what to watch
Avatar

Already ordered your new TV and Blu-ray player? Avatar is the movie that'll help show off your screen's high-def potential. The jaw-dropping sci-fi epic has become the highest-grossing film of all time, and the new Collector's Edition Blu-ray offers 16 minutes of extended footage, in addition to numerous deleted scenes and over eight hours of bonus features.

Price: £17.99 at hmv.com

Beauty and the Beast

One of Disney's best animated movies? We certainly think so, and it's now finally available on high-definition Blu-ray. Disney's diamond edition includes both the Blu-ray and DVD versions of the movie, so you'll be able to watch it on every player in the house, and the "Composing a Classic" special feature will appeal to those who love the Alan Menken score.

Price: £15.99 at hmv.com

Inception

Reviews have been mixed, but Inception will certainly have your brain working overtime during the holiday season. Written, produced, and directed by Christopher Nolan, the movie stars Leonardo DiCaprio and tells the mind-bending tale of a group of specialists who enter human dreams to carry out corporate espionage.

Price: £14.99 at hmv.com
HEXUS Christmas Gift Guides 2010