Putting faces to names
Facebook has begun rolling out automatic facial recognition across its user base, offering suggestions of friends to tag when uploading images.
Facebook's facial recognition technology works by looking at photos you have previously been tagged in, and comparing new uploads to that existing archive. If any friends are recognised in the photo, you'll be promoted to tag them - it's not automatic at present, but we wouldn't be surprised if that became an option in the future.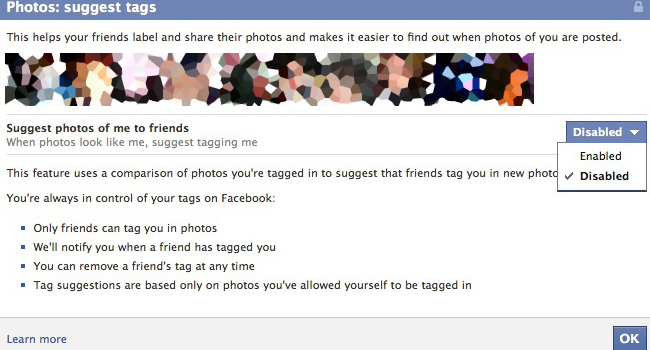 A new privacy option has been made available for users who don't want their faces being recognised, and is enabled by default. The decision to make facial recognition-based tag suggestions opt-out has may be a cause contention for Facebook users who would prefer that any potentially privacy-violating option be opt-in. The concern isn't the feature itself - opting out of automatic tagging doesn't stop friends from tagging you in photos, it only stops Facebook from prompting them to do so - but rather Facebook's 'public by default' attitude.
Facebook does offer an FAQ answer on how to disable the new feature, for those stuck working out how to do so. With the enabling of these new features left unannounced, however, the onus is placed on Facebook users to keep an eye on their privacy settings lest new options be added which open up their profiles more than desired.
In this instance we're probably on Facebook's side; its facial recognition isn't actively tagging photos (yet) and forcing you to un-tag them - human approval is still required. We will still be keeping a close eye on our Facebook privacy settings though and advise you to do the same.