Apple has soundly beat investor analyst expectations and its own guidance to publish a second quarter revenue figure of $45.6 billion. As a result, shares in the Cupertino tech giant have surged overnight – while they suffered a slight drop before the close of play yesterday they are currently up a whopping 7.5 per cent in pre-market trading. Apple also took the opportunity to announce a stock buyback; it will buy back $30 billion of its own stock and raise its quarterly dividend by 8 per cent.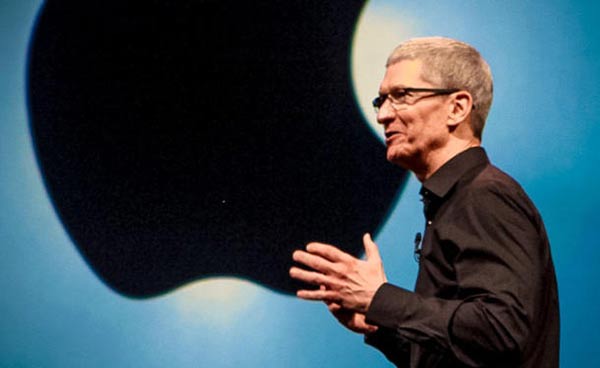 Apple CEO Tim Cook said that he was very proud of the results and highlighted the performance of the iPhone and Apple's network of services for helping the most to contribute to the good news. "We're eagerly looking forward to introducing more new products and services that only Apple could bring to market," he added.
The sales of the headlining devices produced by Apple break down and compare as in the table below. It is clear that iPhone sales have surprised analysts and more than compensated for a slowing of the iPad sales rate. Good gains were seen in the Far East including a 26 per cent iPhone sales boost in Japan thanks to a new NTT Docomo distribution deal. Even so these global iPhone sales figures show a marked decline from the period covering Xmas.
| | | | |
| --- | --- | --- | --- |
| | Q2 2014 | Investor prediction for Q2 2014 | Q2 2013 |
| iPhone | 43.7 million | 38 million | 37.4 million |
| iPad | 16.3 million | 19.3 million | 19.5 million |
| Mac | 4.1 million | 4 million | 3.9 million |
| Revenue | $45.6 billion | $43.5 billion | $43.6 billion |
Looking at other money spinners for Apple, not listed in the table above, we have to highlight the impressive performance of the iTunes store. Its sales were up by $2.6 billion this quarter. Also for comparison's sake, iTunes generated 85 per cent more revenue than Google Play in the most recent quarter. Apple told investors that most of the 800 million iTunes account holders have registered payment cards.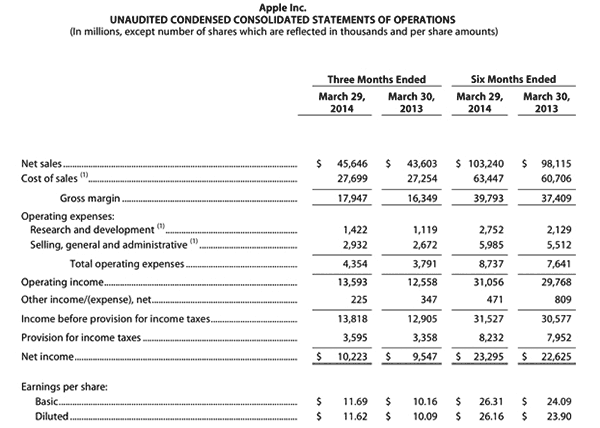 Stock split
Apple has given the OK to a 7-to-1 stock split which will make the shares more affordable and easily tradable by for individual investors. If we take the price now as roughly $560 per share the split will result in a share price of about $80.
Looking forward Apple has issued guidance for its Q3 accounting period and expects to bring in between $36 billion and $38 billion in revenue during this period. The margin it will make on its products is expected to be between 37 and 38 per cent.