Everyone wants to know how much the new Windows RT and Windows 8 tablets are. Microsoft and its partners have been very cagey so far. Only yesterday we reported Steve Ballmer's interview with The Seattle Times in which he gave us a wide open range of between $300 and $800 for the Microsoft Surface. Now a confidential 'holiday roadmap' slide from ASUS has been leaked via ZDNet. The slide shows that ASUS is aiming to market a 10.1-inch Windows RT tablet at $599.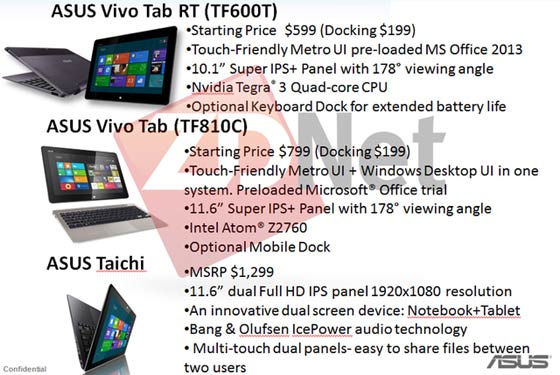 These prices seem pretty high:
ASUS Vivo Tab RT: 10.1-inch Windows RT tablet $599 + keyboard dock for $199
ASUS Vivo Tab: 11.6-inch Atom powered Windows 8 tablet $799 + keyboard dock for $199
ASUS Taichi: 11.6-inch dual panel full HD tablet, innovative product at $1299 RRP
Steve Ballmer's lower end sweet spot price of $300 is doubled by the cheapest ASUS tablet in this leaked price list. Also if you want a keyboard dock for either of the ASUS Vivo tablets you will have to fork out another $199. Especially worrying is that the Windows RT device + dock price is encroaching upon Ultrabook territory. Intel recently told c|net that all Ultrabooks will be touch enabled in the not-too-distant future.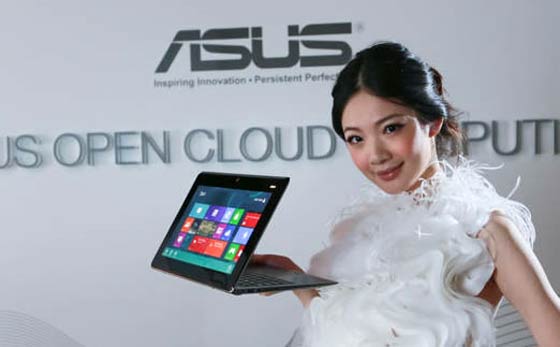 ASUS needs the money to subsidise its shop assistant designer wardrobe
The ZDNet report accompanying the leaked slide agrees that the prices are rather steep; "Asus isn't a business brand yet it is pricing its Windows tablet as if there were some enterprise secret sauce". Also they surmise that "Consumers will balk at these tablet prices and a) either opt for a laptop or b) go with a cheaper tablet such as Apple's iPad or any variety of Android". The other option is of course that consumers will just wait, not being attracted to jump in at these kinds of prices. However pricing too high will waste the holiday season opportunity and miss a lot of potential sales.