Statistics from NetApplications data shows that only 20 out of 10,000 computers running Windows are running one of the freely available Windows 8 previews. It's also taken four months for the uptake of Windows 8 preview to reach the level that Windows 7 preview attained after only seven weeks availability.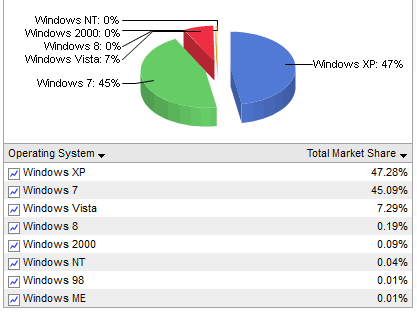 Last week we looked at two separate collections of statistics about Windows 7; one showing how Windows 7 has more than 50 per cent of the desktop market share, another saying Windows 7 is about to overtake Windows XP. Greg Keizer at ComputerWorld looked more deeply into these and earlier stats to see how the popularity of the Windows 8 preview releases compare to those of Windows 7.
The previews of these operating systems were not launched at the same time of year; the first Windows 7 preview was seven weeks earlier in the year than that of Windows 8. However it is still interesting to see the time comparison graph, even considering the one and a half month head start for Windows 7.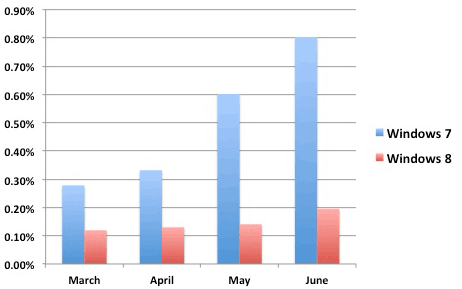 If the time line was adjusted to give both release previews a coinciding start date, then at four months after preview availability Windows 7 was three times more popular than Windows 8. Also is you look at the graph it doesn't look like Windows 8 is catching up, the graph shows a divergence unfavourable to Windows 8.
Perhaps these figures (NetApplications data is often cited by Microsoft) have nudged Microsoft into issuing their most generous operating system upgrade prices ever. Also whereas Windows 7 was an upgrade that would appeal to the mass market, a headlining feature of Windows 8 is the touch friendly Metro interface. Touch screen equipped PCs are currently only a small minority of those in usage. I explained to my daughter, who has an HP touch screen laptop, how I could install the latest Windows 8 preview for her and she said "I can't be bothered." It looks like most people feel that way.