Windows 7 has been a very popular OS since its launch in October 2009. Version 7 of Windows addressed a lot of niggles people had about the previous Windows Vista operating system with improved multi-core performance, boot performance, laptop battery life and generally letting you get on with your computing in a less attention seeking manner. Somehow people knew it and in July 2009 pre-orders of Windows 7 were greater in just 8 hours than the sales of Vista during its first 17 weeks of sale.
The Windows 7 OS reached a four per cent market share in less than three weeks of availability according to Net Applications. Windows 7 is the default OS when you buy a new PC, in fact it's hard to buy a PC without it, which no doubt accounts for a large part of its steady climb. However it must be admitted that users hold this version of Windows in high regard, a fact that can be clearly seen in any discussion of the upcoming Windows 8 OS.
While the Windows 7 completely overshadowed Windows Vista the much older Windows XP OS has remained popular with many end users and businesses. This is partly due to supporting legacy software and hardware, its lower hardware requirements and also because people are simply used to it and like it. Windows XP will still get security updates and hotfixes until April 2014.
On a par with Windows XP
Net Applications believes the eclipse of Windows XP will actually be later this month when Windows 7 should swap positions with the leader on the desktop OS usage chart. Right now they are neck and neck in the region of forty something per cent each.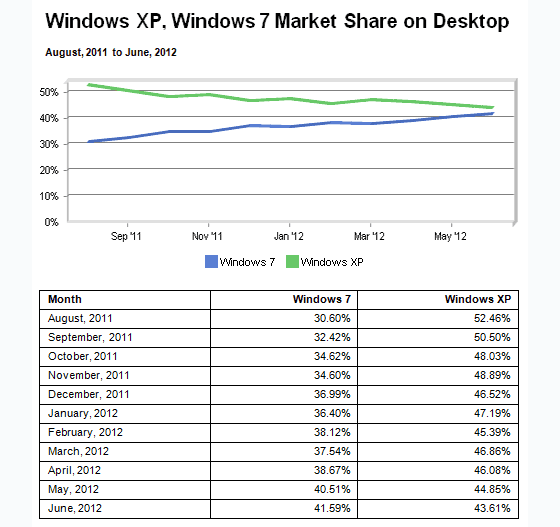 Data from Net Applications
Over 50 per cent
StatCounter global stats show that online impressions for Windows 7 systems surpassed those of Windows XP in September 2011 and now Windows 7 has over 50 per cent (50.94 per cent) of the worldwide operating system market, compared to Windows XP on 29.33 per cent.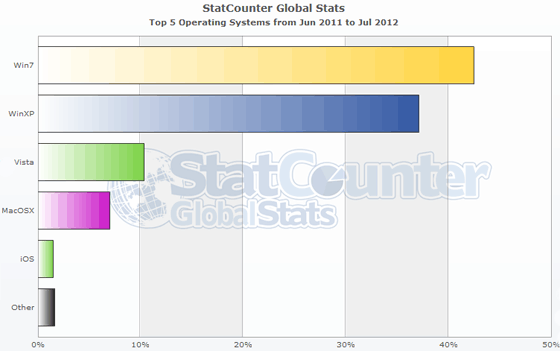 Data from StatCounter
Windows 8
If we use the Net Applications figures and extrapolate the curve the short distance to the time of the Windows 8 launch we expect, at that time, Windows 7 will have a 46 per cent share of the desktop market. It is a possibility that Windows 8 will "do a Windows Vista" and mainly sell due to being installed on new systems, leaving Windows 7 sales to continue to grow steadily even after the launch of the new OS.