COMPUTEX is an all-embracing technology show, replete with manufacturers who specialise in 'me-too' RJ45 cables to high-end server hardware from the likes of Supermicro.

The onus of server designers is to leverage the highest possible performance in the smallest form-factor. Recent advances in virtualisation technology and increase in pure compute power from multi-core CPUs situated on a single rack has, really, pushed the expected performance-per-watt-per-square-foot metric right up, meaning that new datacentres fit an incredible amount of efficient processing power in surprisingly small spaces. Faster and smaller is the oxymoronic tune that the folks at Supermicro have to dance to.

Helping Supermicro keep up with the server Jones' is the SuperBlade.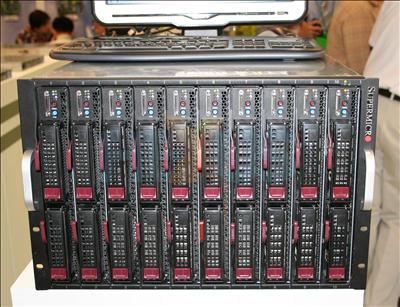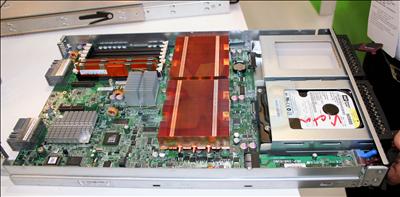 Containing 10 blades that are capable of housing quad-core Xeon CPUs, the SuperBlade offers a staggering 80-processor powerhouse in a 7U-sized box. Supermicro's representatives commented that a four-socket (4P) Opteron version would be made available soon. Couple that with the upcoming quad-core 'Barcelona' CPUs and you have, well, lots and lots of grunt.

Further, dual Gigabit Ethernet ports, 32GiB of fully-buffered DIMMs (based upon 8 4GiB DIMMs), support for hot-plug 2.5/3.5in SAS and SATA drives, and InfiniBand (high-speed interconnect) are all present, per blade. PSUs are customisable depending upon load, ranging from 1400W-2500W. We'll take 6 and put them in a 42U rack, please.