Graphics gains
With tablets the biggest story of this year's Mobile World Congress, graphics assumed a more prominent role than ever in the battle between the big SoC players.
The big winner in the first couple of months of this year has been NVIDIA - a graphics specialist - primarily due to it being the default SoC provider for the first generation of Android 3.0 tablets with Tegra 2.
The only other major SoC player to design its own graphics is Qualcomm, with its Adreno graphics core derived from its acquisition of the ATI handheld unit a couple of years ago. Those who don't design their own graphics cores predominantly turn to embedded GPU specialist Imagination Technologies, although ARM is pushing its Mali design too.
So the pressure is on Imagination to demonstrate why its graphics are superior to these three competitors. The main themes coming from Imagination at this year's show were: design wins and 3D mapping.
The two big design wins highlighted were already in the public domain, but are great exemplars for Imagination's POWERVR SGX 5 series graphics. As we covered last week, Texas Instrument's OMAP 5 series uses the SGX544, while Imagination is enabling the first glasses-free 3D mobile phone display in the LG Optimus 3D.
Imagination was also keen to emphasise the presence of a quad-core SGX543 in the new Sony NGP - the next-gen PSP, and the same design in the Renesas SH-Mobile APE5R.
The first named licensee of the next-generation 6-series POWERVR design - codenamed Rogue - was revealed to be ST-Ericsson, with its Nova application processors. Apparently there are a few other Rogue lead partners, but they have they to identify themselves. Here's Imagination's table of SoC wins.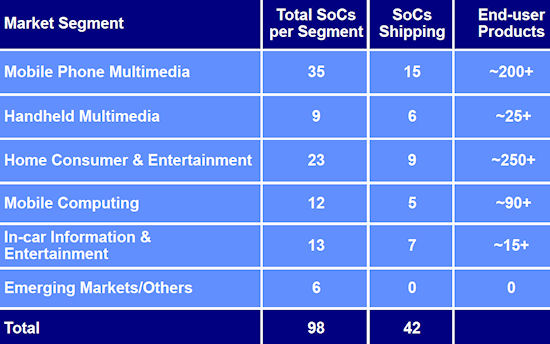 To illustrate one of the real-life benefits of its graphics Imagination introduced us to Mimmis Olsson, who heads up technical marketing at Nokia-owned digital mapping giant Navteq. We heard about how Navteq is mapping the world in 3D - i.e. actually hitting the streets and getting 3D data on buildings, landmarks, etc. This is even being done in the interior of buildings to enable navigation inside them.
As well as producing cool 3D maps, such as the one of the Fira - where MWC takes place - below on an iPad, this 3D data and mapping has limitless social networking, gaming, location-based services and augmented reality potential. Navteq works closely with Imagination, it seems, especially on the developer level.