It's a bird, it's a plane...
With the speed of a Lennon counter-attack, NVIDIA has countered the claims of its competitors at Mobile World Congress 2011 with an announcement of its own.
Since CES NVIDIA has been trying to promote the concept of a 'super' chip and the resulting 'super' phone. All this talk has clearly left a permanent impression on Tegra boss Mike Rayfield as he felt compelled to blog on the matter of NVIDIA's Tegra roadmap, perhaps prompted to do so after the speculation fuelled by his recent interview with us.
While nothing with the name Tegra 3 has been announced, the subject of Rayfield's blog was something called project Kal-El - the next generation of Tegra SoC. We're going to keep this short and sweet for now, because we're hoping to speak to Rayfield about this announcement in depth tomorrow, but this seems to be a preview of what will eventually be called Tegra 3.
So hands up who got the 'super' connection. Kal-El is, of course, the proper name of Superman. And the comic book geekiness doesn't end there. Check out the Tegra codename roadmap below and see if you can call-out the marvellous super heroes referred to.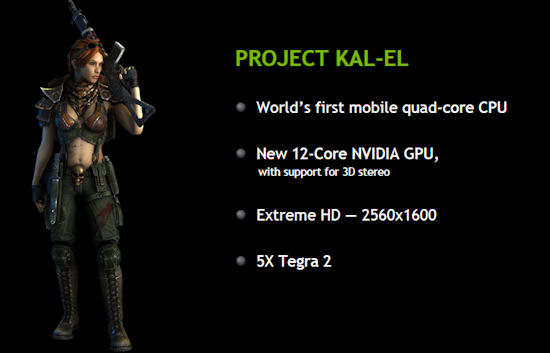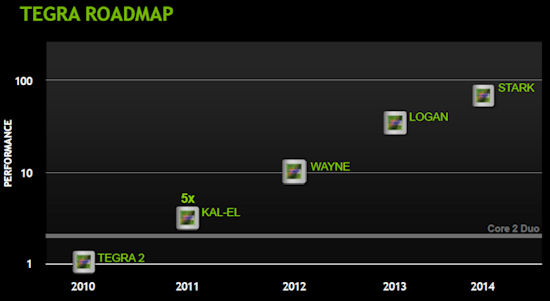 Kal-El is, as predicted, a quad-core chip. Not only that, it has a 12-core GPU. Rayfield blogged that his customers already have samples of the chip, and are planning production in August, so why he's still referring to it as a project rather than a completed product remains a mystery. One thing is clear, however: this announcement was made very much with the Snapdragon and OMAP announcements in mind - especially since they're still some way from appearing in devices.
We'll leave it at that for now, but watch this space, because we hope to be able to flesh-out this announcement for you soon.