ULCPC market set to boom
Doreet Oren (pictured), product marketing director at Sandisk, shared her vision of the market for its new miniature pSSD (parallel ATA solid state disk) with HEXUS.channel at Computex 2008 today.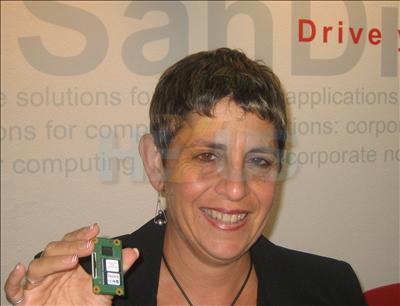 "This is a new member of the Sandisk SSD product line," said Oren "We're targeting the ultra-low cost PC (ULCPC) market – which covers PCs costing $250 to $500." She revealed that, although the capacity of the drives goes up to 16GB, the main market is probably for 8GB.
Oren shared a fleshly drafted presentation with us, which featured a Gartner prediction of the growth in global demand for low cost driven ULCPCs.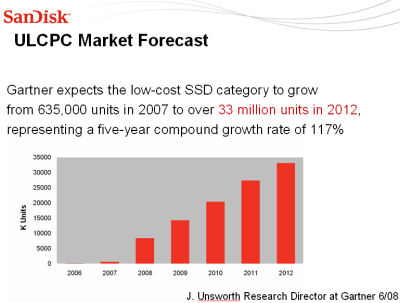 Of course, Oren's ULCPC designation refers to those PCs that had their origin in the OLPC philanthropic initiative, designed to provide access to computing for the majority of the world that had previously been priced out of the market.
The popularity of smaller, cheaper laptops in the richer world has meant these products now have a truly global market, defined by price and reliability over performance and power.
Oren concluded with a summary of the features and benefits that Sandisk believes makes the pSSD an ideal product to service this market.