First look: Corsair Carbide Series Spec-Alpha
Loading...
Been waiting a while?
Get Flash
to see this player.
George Makris gives us an overview of the upcoming mid-tower gaming case.
Corsair has been busy showcasing its wares at CES 2016 and chassis make up a big part of the firm's updated product range. The most striking new addition is without a doubt the Carbide Series Spec-Alpha, pictured below and showcased above by Director of Marketing, George Makris.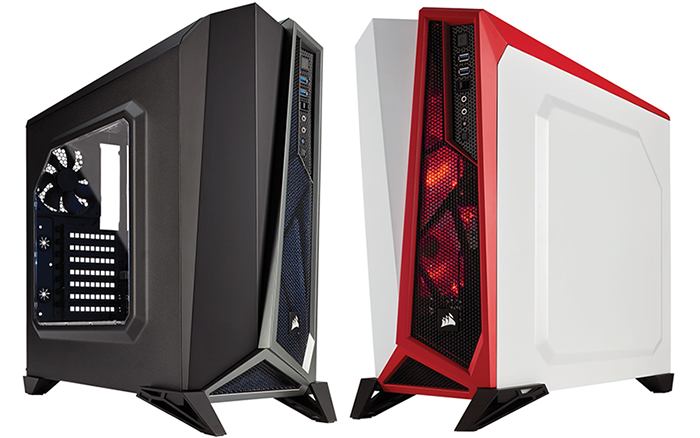 Priced at $79.99 and available in a choice of black-and-silver or red-and-white colour schemes, the Spec-Alpha is one of Corsair's most aggressive-looking chassis to date and is clearly aimed at enthusiast gamers.
In what's shaping up to be a 2016 trend, Spec-Alpha is the latest chassis to ditch 5.25in optical bays in preference of a smaller overall profile and a direct front-to-back airflow path. Speaking of airflow, three 120mm fans will be included as standard, and the chassis also integrates a three-speed fan controller.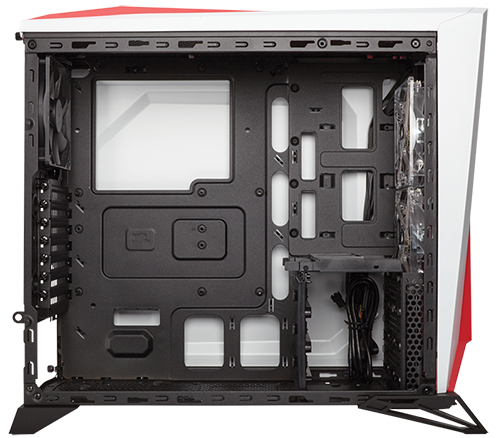 The exterior aesthetic will no doubt divide the crowd, but we actually quite like it. In a weird sort of way it seems like a cross between a Sandcrawler, a Stormtrooper and C3PO's mystery red arm.
What do you think, one to watch or too garish for your tastes? You'll have plenty of time to mull it over as the chassis won't ship until March, but in the meantime here are the official specifications as provided by Corsair:
Bold Exterior Design with front intake LED fans: The asymmetrical, hard-edged design of the SPEC-ALPHA gives it a bold, unique look.
Direct airflow path to keep CPUs and GPUs running cooler: Modern systems don't need bulky drive cages obstructing the airflow. By removing the 5.25" drive cage, the SPEC-ALPHA has a direct path from the front intake fan to the CPU and GPU.
Large side panel window to show off your hardware: Why hide it? All that performance hardware looks great, so why not look at it through the huge side panel window?
Three included 120mm fans and built-in three-speed fan controller: Watching a movie? Flip the switch for nearly silent operation. Throwing on the headset for some online gaming? Flip it to high and keep the GPU cool for better framerates.
Cable routing cutouts and tie downs: Nobody wants to see a rat's nest of cables, so hide them behind the motherboard tray to keep cable routing neat, tidy, and out of the airflow path for better cooling.
Easy to build: Tool-free drive installation and side panel removal means less time spent building and more time gaming.
Front 240mm radiator compatibility: Upgrade to the power of liquid cooling for CPUs or GPUs with up to a 240mm Hydro Series cooler.
Native USB 3.0 and SSD support for modern builds: Whether it's a new external drive for storage or a new SSD for the user's preferred OS or games, the SPEC-ALPHA is ready for anything.