Corsair highlights water-cooled potential of Carbide Series 400C
Loading...
Been waiting a while?
Get Flash
to see this player.
Why have one radiator when you could have three?
A tech trade show wouldn't be complete without George Makris showing off an array of new chassis. For CES 2016, Corsair's Director of Marketing put the spotlight on the newly launched Carbide Series 400C and 400Q.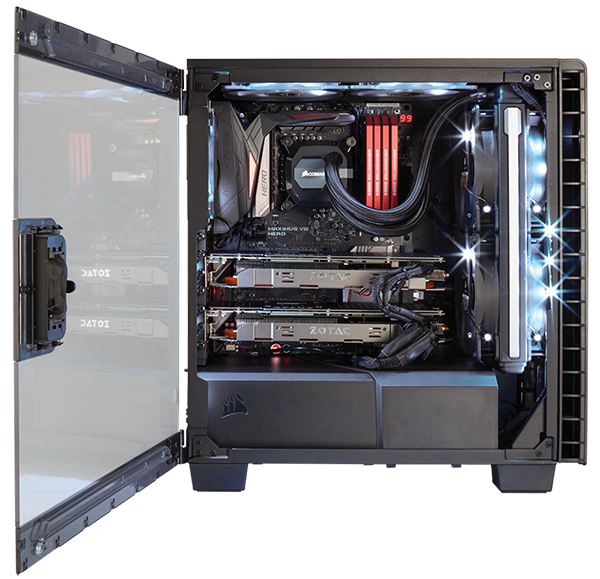 Priced at $99.99 and designed to be "easy to build in, easy to clean, and liquid-cooling capable," the eye-catching 400C touts a lovely large side window that provides a clear view of what lies inside.
Styled to be smaller and less intimidating than some of Corsair's other recent efforts, the 400C is compact for a mid-tower solution as a result of featuring no 5.25in optical bays. Doing away with the traditional storage stack has enabled Corsair to open-up cooling possibilities, with George keen to point out that this sub-$100 enclosure can simultaneously house 360 (front), 240 (top) and 120 (rear) radiators.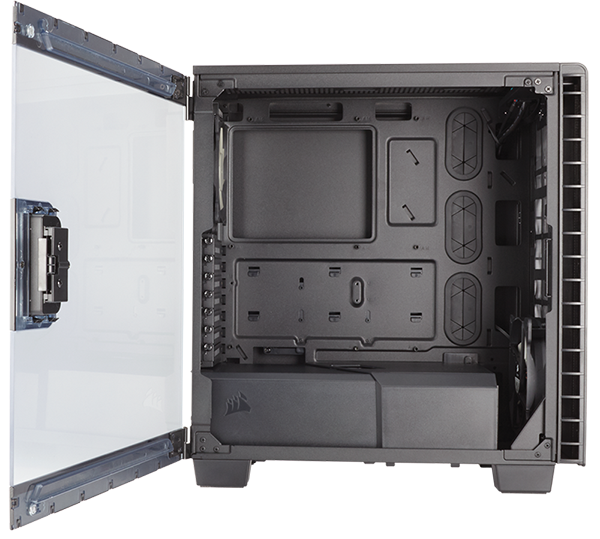 The chassis shares a few commonalities with NZXT's H440, which is no bad thing, but the 400C undercuts the competition on price and Corsair's all-black aesthetic may be preferred by some. For those uninterested in showing off their internal hardware, a 400Q variant with a solid side panel and sound-dampening lining is also being made available and both options are now available to order from various UK retailers.
Intrigued? You'll find the official specifications below and you can also now read our in-depth review.
Specifications
Carbide 400C and Carbide 400Q
Clean, modern lines with an all-steel exterior: Get rid of those plastic cases – the 400C and 400Q have full steel front and top panels for extra durability and stunning looks.
Compact design, full size capabilities: Despite the 400C and 400Q's compact dimensions, they can house a full ATX motherboard and multiple GPUs.
Direct Airflow Path: One way to reduce noise is to make sure fans don't work harder than they have to. By removing the drive cages behind the intake fans, the 400C and 400Q provide a more efficient direct airflow path to the hottest components, the CPU and GPU.
Liquid cooling capable: With room for up to a 360mm radiator in front, a 240mm radiator on top, and a 120mm radiator in rear, the 400C and 400Q can mount a wide range of Corsair Hydro-series liquid coolers.
Two AF series fans: Corsair-exclusive AF120L and AF140L fans efficiently draw ample cool air directly to components without the turbulence that can cause fan hum.
Easy to Build: Tool-free drive installation, side panel access, and tons of cable routing options and tie downs means less time spent building a PC and more time using it.
PSU and 3.5" Bay Cover: It's easy to tidy the inside of the case by placing cables and drives behind two modular, clean, and refined PSU and 3.5" bay covers.
Easy to Clean: Easily access dust filters on front, top, and bottom mean it'll never take more than a minute getting dust out of the system.
Carbide 400Q Only
Silenced panels for quiet operation: Sound damping material placed on the front panel, side panels, and top panel reduces component noise.
Carbide 400C Only
Hinged and latched full side-panel window: Components are easily accessible and when closed, every part of the build is visible through the full side-panel window.