Further considerations and evaluation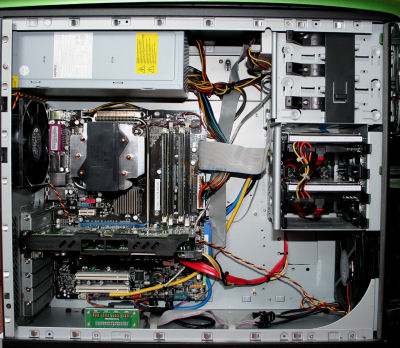 Removing the side cover and taking a peek inside, we now see a regular-looking PC. We like the method by which the side panel's lighting is connected to the chassis. A lack of wiring allows you to remove the side panel without worrying about fouling connectors and pulling wires.

Thinking about the guts of the system, there's nothing intrinsically wrong with the ASUS P5N32-SLI SE Deluxe motherboard but we'd liked to have seen the Intel Core 2 Extreme X6800, if Alienware had wanted to go down the NVIDIA multi-GPU route, to be paired with the all-new nForce 590 SLI I.E. core logic. However, NVIDIA's motherboard partners have still to ship retail boards on a chipset that we reviewed a month ago, and there's us thinking that vapourware was something relegated to the past.

The first problem we identify, with respect to specification for a £3K+ base unit, is a lack of a discrete soundcard. Of course, a Creative SoundBlaster X-Fi XtremeMusic, specified on most high-end systems, is available for an additional £79+VAT. However, if you consider that Alienware is shipping this gaming machine with AC'97 audio emanating from the nForce4 SLI I.E.'s southbridge, the lack of a decent soundcard is all the more conspicuous by its absence.

You'll know that Alienware chose to outfit this SKU with a single NVIDIA GeForce 7950 GX2 card that's clocked in at the reference's 500/1200 clocks. Perhaps we're being overly critical, and we'd love to hear your comments in our forums, but we'd expect a £3K+ base unit to feature either a heavily overclocked 'GX2 (XFX, anyone?) or twin 7900 GTXs in SLI, preferably overclocked models. Quad SLI, perhaps, should be available at this kind of price point, too.

Moving on up, Alienware specifies 2GiB of Patriot DDR2 RAM. The capacity is fine and Alienware utilises 4-4-4-12-2T latencies at DDR2-800 speeds. Nothing wrong with that, so moving on...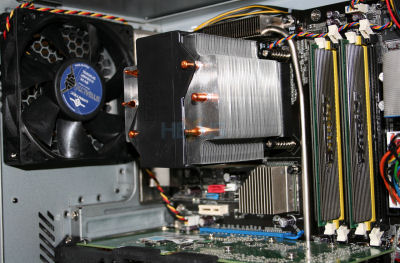 Alienware eschews the reference cooler and opts for a tower cooler from AVC which incorporates a fan that spits out the air warmed by the CPU back into the chassis and over the DRAM modules you see in the above picture. The rear exhaust fan helps in taking some away, sure, but the cooler isn't the best design we've come across. It's also particularly noisy if the fan hits a top speed of 4,000RPM.

System storage is taken care of by a couple 500GB Hitachi SATA2 drives. They're quiet, speedy and effective, so we have no problems with their inclusion. Of course, always wanting more bang for the buck, a Seagate 750GB wouldn't have gone amiss in this showcase SKU. There's a further two SATA2 ports and complementing drive bays should you wish to add additional storage at a later date.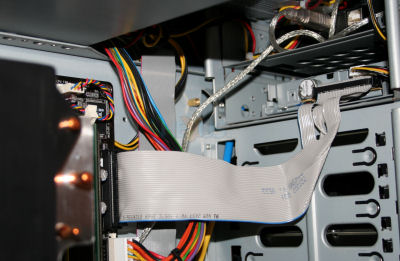 A look across the single optical drive, 28-in-1 cardreader and floppy drive highlights the spatial limitations of using a midi-tower PC; there's no further room to install a secondary optical drive. That's precisely why we're fans of true tower cases for enthusiast-class PCs: you can never have enough space, right?


Accessories and bundle
Alienware adds in all the usual suspects with respect to the bundle.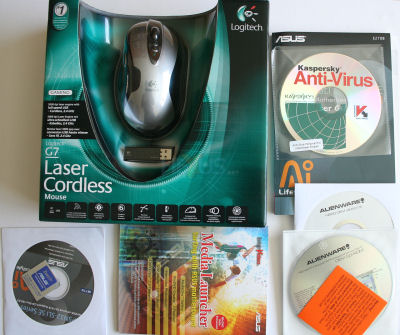 Along with the boxful of motherboard accessories that would ship with a retail ASUS P5N32 SLI SE Deluxe, Alienware supplies a Logitech G7 wireless optical laser mouse and matching wireless G15 keyboard, both of which are sensible inclusions at the high-end spectrum. It also adds in Kaspersky Anti-Virus Professional Edition, an Alienware-branded Nero package, a backup/recovery CD should matters go awry and an Alienware T-shirt with the famous head but fit for blobbies only (XL size), and, for you gamers, a fUnc mouse mat.

You will need to add your own speakers and monitor at the very least, and we'd recommend installing a discrete soundcard rather than rely on AC'97 audio the system ships with. A reasonable enough bundle considering the esoteric nature of the system.


Heat, power and noise considerations
We ran the sample through a 20-minute loop of 3DMark06 and took temperature readings from PSU exhaust fan, system exhaust fan and the secondary PCI plate on the GeForce 7950 GX2 card. With an ambient temperature of 24C, the air coming out of the PSU hit 47C, the exhaust fan 44C, and the GPU's 51C. Reasonable temperatures considering the high-end, hot-running components.

Using our trusty watt meter, the system pulled 185W when idling in Windows, 215W under sustained 2D load and around 270W when looping 3DMark06. That compares favourably with the pre-overclocked Vadim system we took a look at a short while ago, which topped out at 385W under heavy 3D load.

The system features a couple of 120mm fans in addition to the GPU, CPU, and PSU's. Noise, be it pitch or overall tone, is a subjective issue but, to this ear at least, the system was relatively quiet when under load. CPU load temperature was reported at 45C, so the tower cooling did its job. Systems can always be quieter, yet, we feel, Alienware has done a decent job in striking a balance between performance and noise.


Warranty and upgrades
The Area-51 7500 ships with a standard 1-year collect-and-return warranty. Should a problem arise, the customer's first port of call is a freephone telephone to Alienware's technical support department.

If tech. support deems the problem to be minor, say, a faulty optical drive, a replacement part is sent out via DHL on, usually, the same day as the call. The user is then left to uninstall the faulty component and install the replacement model, so a basic knowledge of PC workings is required.

Should the problem be diagnosed as something more major, the system will be collected by DHL via its Express service, returned to Alienware's production facility in Ireland, and repaired. Alienware reckons that most repairs are completed within 5 working days, meaning that you shouldn't be without a system for more than 7-8 days in total.

We're fine with the procedure Alienware adopts in case of problems but we're left bemused that a £3K+ base unit ships with a 1-year CAR warranty. We'd urge Alienware to build a 3-year onsite support package in to the asking price, especially in view of the high-end price-tag attached to this SKU. We can guess our readers' reaction to paying £3112 and having to wait nearly two weeks for a machine to come back from repair, should it arise.

In terms of upgrades, Alienware offers a huge number of options. Looking at the configuration screen for this SKU (albeit the starting model), found here, you'd be forgiven for thinking that you'd been directed to Dell, so similar are the upgrade options. Knowledgeable readers will know that Dell added Alienware to its ever-expanding empire earlier this year, so there's actually no surprises in the manner the Alienware website is portrayed.

In keeping with Dell's upgrade philosophy, then, certain upgrades are, basically, a complete and utter rip-off. Others, though, are more palatable. For our sample SKU, upgrading the graphics cards to twin GeForce 7900 GTX 512MiBs will cost you an additional £122, upgrading the warranty to 4yrs CAR an additional £187, both prices excluding the dreaded VAT. We're also confused by Alienware not specifying any onsite support options whatsoever. Hmm.

Alienware also offers customers a 14-day money back policy if they're not completely satisfied by the system. It's worth noting that part of that timescale is a legal requirement under the U.K.'s distance selling regulations.
Overall thoughts
The components' list is definitely high-end but so is the price. You'll end up paying almost £3200 (inc. delivery) for this base unit that ships with a single graphics card. We totted up the price of the individual components if bought from a respectable etailer and our calculator returned a figure of just over £2,000. We fully understand and appreciate that Alienware needs to make a profit and bringing a new SKU to market is an expensive business, but when MESH can offer the same CPU, motherboard, RAM, hard drive (a single 500GB), and add in a high-end soundcard, 20-inch TFT, speakers, and SLI'd GTX cards on top for over £600 less, we're afraid the Area-51 7500 simply doesn't offer reasonable value for money.

Alienware's Area-51 7500 SKU, though, begins at £1098.62, a figure that represents a considerably lower specification. Head on over to the configurator and take a look for yourself.