Specifications and initial thoughts
System name
Alienware Area-51 7500
Case
Alienware mid-tower - P2 chassis
Processor
Intel Core 2 Extreme X6800 (2.93GHz, 4MiB L2 cache, 266MHz FSB, LGA775)
Motherboard
ASUS P5N32 SLI SE Deluxe - nForce4 SLI x16
Memory
Patriot 2GBytes (2x 1GByte) @ 4-4-4-12-2T @ 800MHz
Hard drive(s)
2 x 500GB HGST Deskstar 7K500 SATA2 16MB cache
Screen
None, optional extra
Graphics card
NVIDIA GeForce 7950 GX2 1GiB (500/1200)
Optical drive #1
NEC ND-3550A DVD ReWriter
Optical drive #2
None, optional extra
Sound
Onboard from nForce4 AC'97
Speakers
None, optional extra
Modem
None, optional extra
Networking
Gigabit Ethernet from Marvell 88E8053 PCIe controller and from NVIDIA MAC
Texas Instruments FireWire400 controller
Ports connectivity (usable)
6 x USB2.0 (2x front, 4x rear I/O), 1 x FireWire400, 2 x RJ45 (Gigabit), audio, optical/coaxial S/PDIF-out, PS/2, eSATA, Parallel
Operating system
Windows XP Professional SP2
Additional software
TBC
PSU
'Alienware' 650W ATX 2.0
Warranty
1 year collect and return
Price
£3,112 including VAT
Shipping
£55.67 including VAT - DHL Express
Other notables
Logitech G-class wireless HIDs, P2 chassis


Alienware's decided to redesign its chassis and the Area-51 7500 is the first recipient of the new, funky-looking P2 case that, it claims, is a cut above the rest. Take a look for yourself.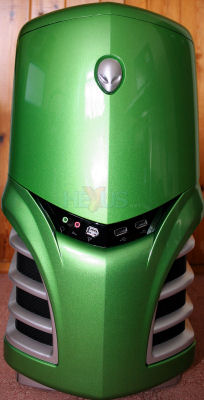 The system arrives in a well-padded box that should minimise the number of DOA machines, although you can never discount the brutality of some rogue couriers. The all-new P2 chassis is available in four colours - blue, black, green, and silver - and with Alienware offering customisation to the nth degree; you're free to choose the chassis colour at the point of sale, although, initially, only black and silver models will be available. The P2 is a regular midi-tower that measures 48cm high, 60cm deep, and 25cm wide, but, underneath the Alienware skin, it's an all-steel chassis that weighs around 22kg including components, so watch out if, like this reviewer, you've got a bad back.

There's a 120mm intake fan at the front and the two side panels contain honeycombed vents that allow the system to draw cooler air in and expel it from the rear. What's more, being an Alienware, it's replete with cool-looking lights that change colour from green to blue and back again. Build quality is, subjectively, good and there were no rattles to report after the HEXUS shakedown test, which involves vigourously manhandling the chassis for a few seconds.

Looking towards the centre of the front exterior we find the usual collection of ports and sockets that adorn most modern PCs. The Alienware twist here is represented by the backlit port identifiers. Funky and functional.

Keeping in with the Alienware theme of old, the system's power button is the silver-coloured head that you see implanted into the door. More cool points here, we reckon.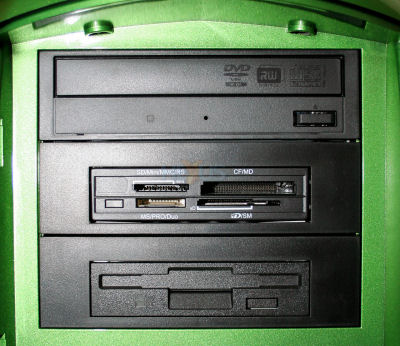 Flipping open the door, which slides out and across to the left, shows us the single optical drive, USB-driven 28-in-1 multicard reader, and floppy drive. The NEC ReWriter is an older model and we'd hoped to see a secondary optical drive in a system costing over £3,000. Alienware will contest that it's an optional extra, which it is, but with a DVD-ROM costing £26+VAT and a 'premium' DVD ReWriter £68+VAT, we're nonplussed to see a secondary drive not specified as standard.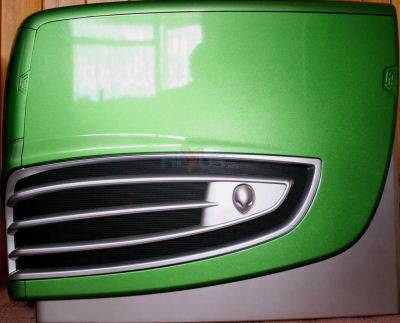 The side highlights the chassis' good looks but beauty is only skin deep. Remember, it's a regular steel chassis on the inside.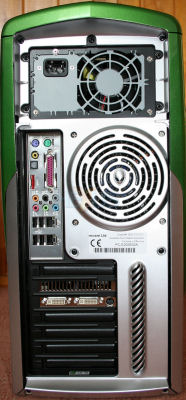 You may think you've seen that I/O arrangement before at HEXUS. You'd be right in thinking so, as MESH's Intel Core 2 Extreme PC used an identical motherboard based on an NVIDIA nForce4 SLI Intel Edition chipset.

eSATA and dual Gigabit support marks out the ASUS P5N32 SLI SE Deluxe motherboard from most of the competition, and considering the lack of nForce590 SLI I.E. retail motherboards currently available, it's a decent enough choice for companies looking for SLI compatibility with Core 2 Duo processors.

Alienware adds a large, silver-coloured plastic appendage to the rear of the chassis, and the ubiquitous head, as seen obscuring the 120mm exhaust fan, we reckon, actually impinges upon airflow.

What's also telling is that Alienware ships this particular SKU with a 'single' graphics card, which is a regular-clocked NVIDIA GeForce 7950 GX2 1024MiB. We'd really hoped to see pre-overclocked GeForce 7900 GTX 512MiB cards in SLI at this stratospheric price-point.