A year's a long time
Controller wars
When Crucial released the RealSSD C300 solid-state drive a year ago, equipped with a Marvell controller, it set new standards in sequential and all-round performance for consumer SSDs.
Rated to a potential 355MB/s read and 215MB/s write, the speed demon was outfitted with a SATA 6Gbps interface, to make the most of the sheer throughput on hand. And it wasn't just a straight-line dragster of an SSD, because well-rounded specifications enabled it to be competitive in virtually all scenarios. Crucial's RealSSD C300, then, was good.
But a year is a long time in the SSD ecosystem. SandForce controllers have found their way into many premium models, and, recently, the SF-2200 showed just how potent the second-generation chip can be when used properly. Heck, if 550MB/s read, 525MB/s write and 50,000 IOPS don't get you excited, find another hobby.
Marvell, though, hasn't stood still. A tweaked version of the RealSSD C300 controller's made itself home in the Intel 510 series SSD, offering more sequential bandwidth at the direct cost of small-file transfers, and Crucial now employs a still-newer variant in the latest range of drives.
RealSSD/m4
Crucial's new chief SSD goes by a couple of names. For OEM and distribution customers the drive is known as the RealSSD C400, and it's been shipping for a little while now. Consumer and business customers - those that purchase from Crucial's website and its channel partners - will see it as the m4. Whatever the name, the new drive sports some tasty specifications.
Crucial m4 ( RealSSD C400) SSD technical specifications
Capacity
64GB
128GB
256GB/512GB
Price
TBC
TBC
TBC
Processor
Marvell 88SS9174-BLD2
NAND flash components
Micron 25nm NAND Flash Memory multi-level cell
Interface
Compatible with SATA 3Gbps and SATA 6Gbps
Max read
(SATA 6Gbps)
415MB/s
415MB/s
415MB/s
Max write
(SATA 6Gbps)
95MB/s
175MB/s
260MB/s
4KB random read
40,000 IOPS
40,000 IOPS
40,000 IOPS
4KB random write
20,000 IOPS
35,000 IOPS
50,000 IOPS
Trim support
Yes
Seek time
0.1 ms
Form factor
2.5-inch industry-standard form factor
Weight
75g
Power consumption
Idle: 0.16 Watts - Active: 4 Watts
Operating temperature
0°C ~ 70°C
Shock resistance
1,500G
Write endurance
36TB (terabytes)
72TB
Product health monitoring
Self-Monitoring, Analysis and Reporting Technology (S.M.A.R.T.)
Warranty
Three years, exclusions apply
Combing through the specifications of the new Marvell controller shows it to be little different from its C300-integrated predecessor. Rather than reinvent the wheel, Crucial pairs it up with super-fast 25nm MLC NAND and hikes up the speeds.
Split over four capacities and with pricing yet to be confirmed, the sequential read speed of 415MB/s is common for the quartet. Write speeds drop as capacity falls; the smaller-sized models' fewer internal NAND chips aren't able to tap into the potential of the eight-channel Marvell controller.
Random writing of 4K files also falls for the same reason, so going bigger is definitely better, if can afford it. Looking at the top-line drives, 256GB and 512GB, Crucial quotes robust figures for both sequential throughput and random operations, though it's worth noting the older C300 is certainly no slouch with speeds of 60,000 and 45,000 IOPS for 4K random read and write, respectively.
Moving on down, the write endurance - how much writing can, on average, be done to the drive - is 72TB. Doesn't sound like an awful lot on first glance, but take 30GB of writing a day and the drive should last for over six years - and we'll be dealing with quite a different SSD animal by then.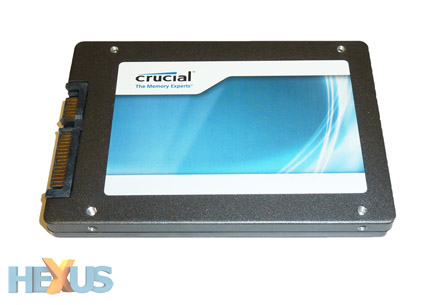 The only reason for drawing attention to this picture lies with Crucial placing the company sticker on the 'bottom' of the 2.5in m4; most other companies have it on the other side, where you can't see the SATA power and connector ports. It may slightly annoy folk who have a side-windowed chassis and want to peer at the drive from time to time - yup, there are people out there like this.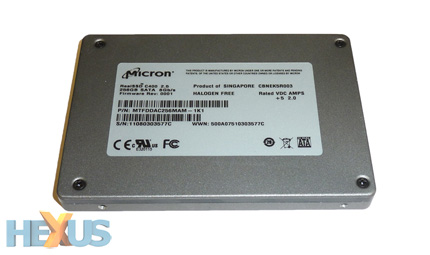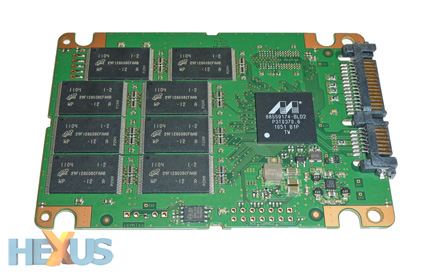 Open her up and this 256GB model has a total of 16 chips - eight on each side - that interface with the Marvell controller. Zoom in and the 25nm Micron chips are ostensibly the same as found on the SandForce SF-2281-driven OCZ Vertex 3.
These 25nm NAND devices are in some ways more fragile than their 34nm counterparts, and compounding the potential limitations with write endurance, the chips are rated to fewer than 5,000 program-erase cycles. We clearly have no empirical evidence to suggest that these drives aren't as robust as their predecessors, but the quest for higher speeds is manifested by manufacturers reducing real-world drive longevity - at least for specifications.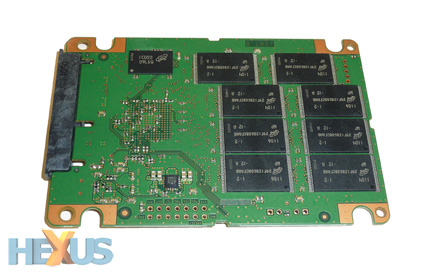 Flip it over and the remaining eight chips are lined to the right of a 256MB cache chip used to buffer operations. Unlike OCZ's Vertex 3, however, this drive doesn't have any space set aside for over-provisioning, where capacity is allocated and used as 'scratch' space by the controller. Reporting as the full 256,058,060,800 bytes (238GiB) in Windows, you're given the total chips' capacity in the m4.
Preview summary
Crucial's m4 SSD uses a newer Marvell controller and 25nm NAND for, on paper, faster sequential transfers and roughly matching random read/write speeds as the benchmark-busting C300, released a year ago.