Software and Summary
In addition to streamlining the appearance of its hardware, Tesoro is also taking the opportunity to refine the software ecosystem with a new utility dubbed Tesoro 360. It's a desktop app that sadly doesn't use our preferred Universal Windows Platform, and Tesoro tells us 360 will eventually become the one-stop software solution for all its upcoming hardware.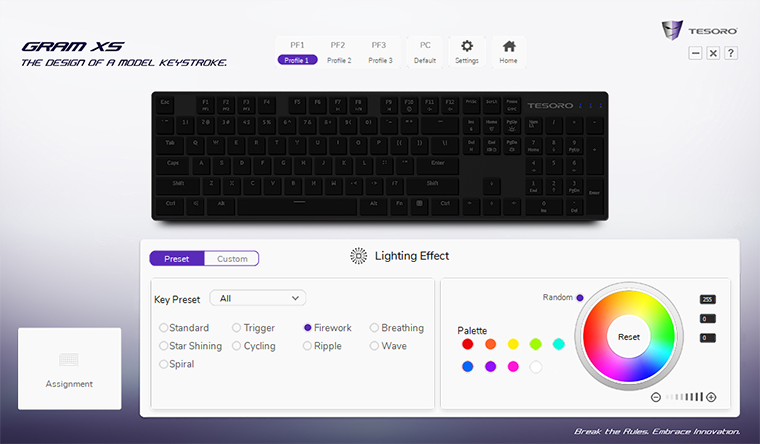 Right now the software is said to be 80 per cent complete, which is a tad worrying considering that Gram XS is now available at retail, but we're told to expect a final software release with custom lighting options and further bug fixes by the middle of next month.
First impressions are nonetheless quite positive. Tesoro's interface has a light and airy feel to it, with quick shortcuts to the four built-in profiles and all the customisation options split into two areas; lighting and assignment. The former, pictured above, offers quick access to a bunch of preset lighting effects and when applied colours are both bright and accurate.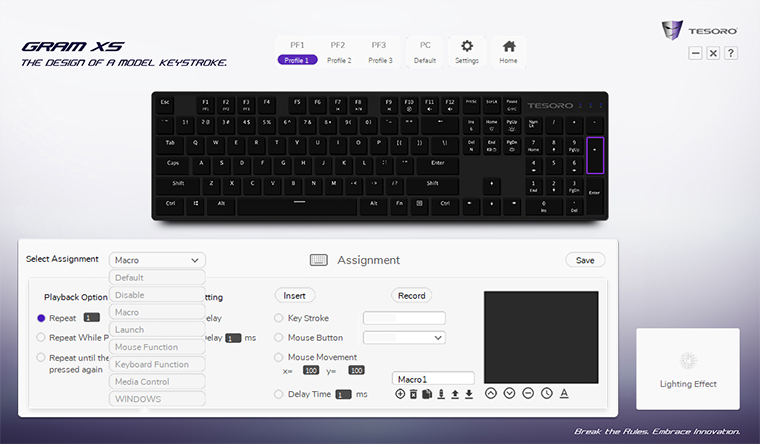 Assignment is where most of your customisation will occur. Keys can be disabled, re-assigned, set to a macro that can include both keystrokes and mouse input, or as a shortcut for multimedia functions or media controls. The essentials are well catered for, and though Tesoro 360 isn't the most feature-packed peripheral utility we've ever seen, it's a solid start that will no doubt evolve with time.
Summary
...Tesoro does a decent job of presenting mechanical functionality in a relatively sleek profile.

Tesoro's attempt to streamline the mechanical gaming keyboard is inevitably going to divide audiences. Some will be hoping that the chiclet keycap and slim switch deliver the best of both worlds, while others will fear for a technology that struggles to excel in any one area.

Gram XS is ultimately a compromise, but Tesoro does a decent job of presenting mechanical functionality in a relatively sleek profile. This is one of the best-looking mechanical solutions on the market, and though die-hard gamers may scoff at the shorter travel, others wanting to streamline their workspace will view it as a minor concession.

The keys feel good during use, there's no flex to the tray when bottoming out, and though our experience of the red slim switch suggests that the actuation point isn't quite as precise as, say, a full-fat Cherry MX, it's a marked improvement over a membrane or scissor-switch alternative. General typing feels quick and responsive, albeit a little noisy, and the slim switch is particularly well suited to fast gameplay. This was always going to be a balancing act, and Tesoro has judged it quite well.

Falling short of perfection makes the $120 fee seem a sizeable hurdle, yet Gram XS is on the right track and reinforces the belief that mechanical gaming keyboards can look good and play well in equal measure. The shallower mechanical switch remains an acquired taste, but these ingredients in a wireless, tenkeyless form factor would really have us intrigued.

The Good

The Bad

Sleek form factor
Mechanical switches without the bulk
Well-suited to both work and play
Bright and vivid RGB lighting

Pricey at $120
Slim switch is an acquired taste




Tesoro Gram XS




HEXUS.where2buy

The Gram XS low-profile mechanical keyboard is available to purchase from Tesoro Store.

HEXUS.right2reply

At HEXUS, we invite the companies whose products we test to comment on our articles. If any company representatives for the products reviewed choose to respond, we'll publish their commentary here verbatim.