Gaming peripherals are big business for plenty of firms, but few have managed to replicate the success of HyperX. Having started life as a high-performance memory line, HyperX is now an entire product division of Kingston Technology, and the manufacturer's catalogue includes an array of award-winning headsets that have resonated with enthusiast gamers.
The product line has flourished since the launch of the original HyperX Cloud back in 2014, but the absence of a wireless solution has left a gap in the HyperX portfolio that is finally being filled with the new HyperX Cloud Flight.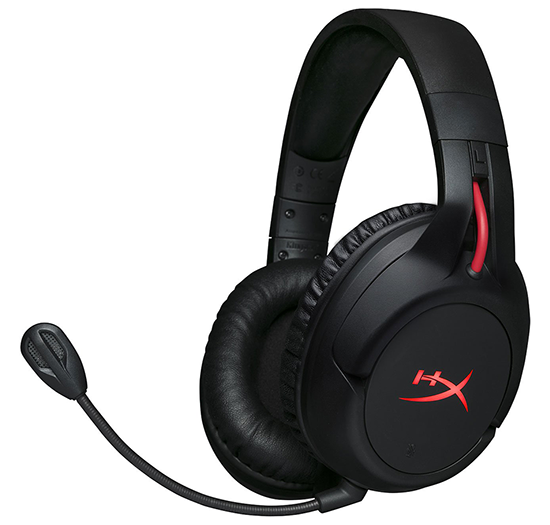 Priced at £139 and introduced as the first wireless set of HyperX cans, Cloud Flight carries a lofty premium but remains surprisingly conservative in terms of features. Whereas rivals offer 7.1 surround sound and Dolby or DTS certification, Cloud Flight sticks to stereo presentation while placing greater emphasis on battery life.
Design and Comfort
According to HyperX, Cloud Flight will provide 30 hours of cable-free playback from a single charge. The runtime is almost double that of, say, a Corsair Void Pro, though it can be hindered by the LEDs illuminating the HyperX logo on each earcup. Choose to have the lights enabled and battery life is slashed to 13 hours, which makes us wonder; who in their right mind would ever turn them on?
Still, superfluous LEDs aside, Cloud Flight is a reasonably sleek-looking piece of kit. The HyperX aesthetic is more sedate than most gaming headsets, with the matte black finish only interrupted by a small piece of red cabling on each end. We'd quite happily don this headset in public - the same can't be said for a great many gaming solutions - and though plastic is the primary construction material, Cloud Flight feels well knitted together with no squeaks nor rattles.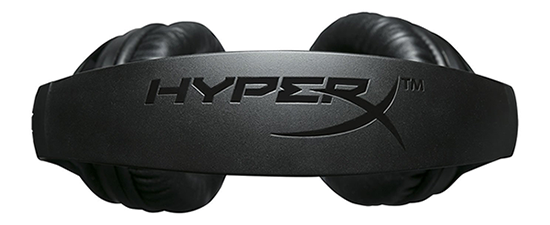 A key contributor to HyperX's success in this field has been comfort, and in that regard Cloud Flight doesn't disappoint. The closed-cup design and cushioned headband feel snug but not tight, a weight of 300g is easy to handle, steel sliders provide ample size adjustment, and the ear cups rotate 90º when the headset is stowed around your neck. These are early days - we've only had the headset for the past week - but we already feel confident in stating that Cloud Flight is one of the most comfortable wireless gaming solutions we've tried in recent years.
Connectivity and Sound Quality
Getting most of the essentials right, the detachable noise-cancellation microphone delivers clear speech with good clarity, while the controls are sensible if not exhaustive. The right earcup includes only a volume wheel, while over on the left you have a power button, microphone mute and a trio of cable connectors: USB for charging, 3.5mm microphone and 3.5mm audio. Both a 1m charging cable and a 1.3m audio cable are included in the box, as is the 2.4GHz wireless USB receiver.
Cloud Flights ticks most of the right boxes, however there is room for improvement. Those who like granular control may lament the fact that there's no separate volume dial for the mic, and wireless connectivity isn't all-encompassing, either. The bundled 2.4GHz USB receiver is compatible with PC and PS4, but not Xbox One, and there's no Bluetooth support for easy pairing to a smartphone.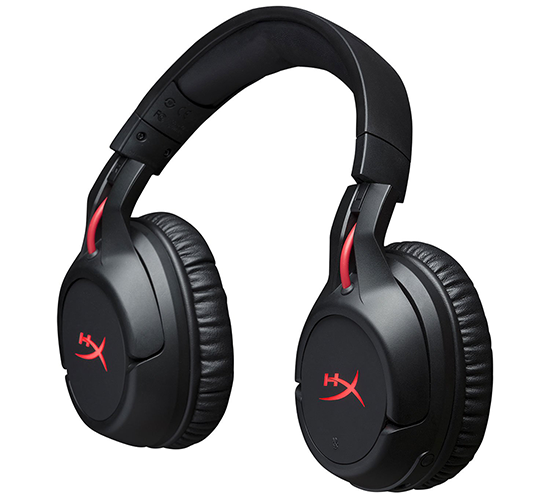 HyperX isn't trying to create a single headset for every usage scenario, and the gamer-specific focus is reflected in audio quality. 50mm drivers deliver a big sound that emphasises gameplay; explosions have extra oomph, yet there's enough detail to help pinpoint movement or gunfire. The bass-heavy approach is also well suited to movies, however Cloud Flight isn't a prime candidate for music, where a tad too much boom results in a muddied mid-range and poor instrument separation.
...delivers strong battery life, no discernible lag, excellent comfort and powerful audio...

Summary

Attempting to cover too many bases results in many products missing the intended target. HyperX has the right idea with Cloud Flight, a wireless gaming headset that delivers strong battery life, no discernible lag, excellent comfort and powerful audio well suited to action-packed gameplay.

It's a shame wireless support for Xbox One isn't included, and the £139 price tag is steep in the face of many stiff competitors, yet if you've been waiting for signature HyperX comfort in wireless form, Cloud Flight ought to be on your radar.

The Good

The Bad

Light and comfortable
Good battery life
Detachable noise-cancelling mic
Audio quality suited to gaming

Wireless limited to PC and PS4
Too bass-heavy for music
Pricey at £140




HyperX Cloud Flight




HEXUS.where2buy*

The HyperX Cloud Flight gaming headset is available to purchase from Scan Computers.

HEXUS.right2reply

At HEXUS, we invite the companies whose products we test to comment on our articles. If any company representatives for the products reviewed choose to respond, we'll publish their commentary here verbatim.