Technical Specifications
ASUS obviously put in some overtime with this motherboard and it definitely shows with the whole host of features. Here is a cut and paste job from the Asus website:
Processor
Socket A for AMD® Athlon XP/ Athlon/ Duron 600MHz ~ 2GHz+

Chipset
North Bridge: VIA® KT333
South Bridge: VIA® VT8233A

FSB
266/200 MHz

Memory
3 x DDR DIMM Sockets
Max. 3* GB unbuffered PC2700/PC2100/PC1600 non-ECC SDRAM Memory

Expansion Slots
1 x AGP Pro
5 x PCI

IDE Ports
2 x UltraDMA/133/100/66

IDE RAID (Optional)
Promise 20276 ATA133 RAID controller support RAID 0,1

Audio (Optional)
C-Media 8738 6-channel PCI audio controller

USB 2.0
VIA VT6202 USB2.0 controller
4 USB 2.0 ports

IEEE-1394 (Optional)
TI controller
1 x 1394 port

Special Features
Power Loss Restart
ASUS JumperFree™
SFS (Stepless Frequency Selection)
Support Smart Card/MS/SD reader
ATA133 RAID 0, 1
Support ASUS iPanel
Support S/PDIF in/out interface (on audio model only)
ASUS POST Reporter™
ASUS MyLogo™
ASUS C.O.P. (CPU Overheating Protection) for Athlon™ XP only

Back Panel I/O Ports
1 x Parallel
2 x Serial
1 x PS/2 Keyboard
1 x PS/2 Mouse
1 x Audio I/O (on audio model only)
2 x USB 1.1
2 x USB 2.0

Internal I/O Interface
CPU/Power/Chassis FAN connectors
20 pin ATX power connector
IDE LED connector
Chassis Intrusion, SM Bus, SIR
Smart Card/MS/SD reader connector
Game port (on audio model only)
S/PDIF in/out connector (on audio model only)
CD/AUX/Modem audio in (on audio model only)
Front panel audio connector (on audio model only)
1 x 1394 port (optional)
ASUS iPanel connector
1 x USB 1.1 connector support additional 2 USB 1.1 ports
1 x USB 2.0 connector support additional 2 USB 2.0 ports

BIOS Feature
2Mb Flash ROM, Award BIOS, TCAV, PnP, DMI2.0, WfM2.0, BIOS 2.3

Industrial Standard
PCI 2.2, USB 1.1, USB 2.0, WfM 2.0, DMI 2.0

Manageability
WfM 2.0, DMI 2.0, WOL, WOR, Chassis Intrusion, SMBus

Accessories
User's Manual
Support CD
UltraDMA 100 / 66 cable
FDD cable
2-port USB bracket
I/O shield
USB 2.0 cable
Game port cable
1394 cable (optional)

Board Size
ATX Form Factor
12" x 9.6" (30.5cm x 24.5cm)

Amongst that technical specification the most important features of a modern motherboard are all included. Native ATA133 IDE support as well as ATA133 Raid 0,1 on board through a promise controller. In addition to the usual two USB ports ASUS have also included 2 new USB 2.0 ports.
The documentation bundle that ASUS provide is very comprehensive with some small additions I have not come across before and think are great ideas.
What may not be obvious from the picture is that there are two large stickers to put on the inside of your case should you wish to as well as a small ASUS case badge. Additionally there is a thick Quick Setup Guide, this has about 5 pages per language, the only language I couldn't find was Latin. Of course we then move onto the main manual, here we have ASUSs usual quality of coverage. A complete guide to all the many jumpers and BIOS settings as well as heatsink installation.
The hardware items that come with the A7V333 are the usual ones as well as a couple of extra cables for the more unique features. These are:
80-pin ATA 100/133 cable

Floppy Drive Cable

IEEE-1394 "Firewire" cable

USB 2.0 cable
Motherboard Layout
Around the CPU socket was plenty of room, allowing for the larger 80mm heatsinks to be installed, such as the Alpha8045. The northbridge chipset instead of being actively cooled ASUS went for a large passive heatsink cooling option.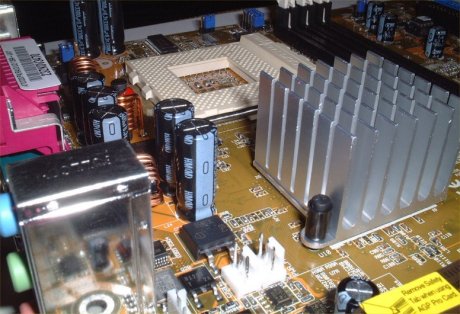 ASUS definitely spent their time thinking through the layout of the A7V333 as everything is positioned quite nicely. The ATX socket is positioned away from the CPU and down by the ATA133 IDE ports. This means that the wiring will be kept away from air flow and could possible be fit behind the drive bays in a case. The one draw back I noticed immediately on the the A7V333 was that you only get 3 DDR slots. The specific reasons for this I have yet to discover but there is room on there so I assume their must be some sort of technical reason.
As mentioned earlier the motherboard comes with 5 PCI slots and 1 AGP Pro slot. Both recent ASUS AMD motherboards I have used (the A7M266 being the other) have included a AGP Pro port. A little extra thrown in by ASUS that probably doesn't up the price any at all that other manufactures such as ABit have yet to include.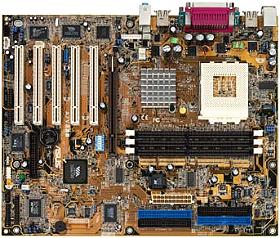 In the above picture from the ASUS website you can clearly see the positioning of the ATX power socket and the 3 DDR slots. What may not be obvious from the picture is a large amount of jumpers. Since jumperless motherboards appeared on the scene I have gotten use to not having to touch any motherboard jumpers/dip switches. The A7V333, like the A7M266 I used before, gives the option of either jumper settings or to set them in jumperless mode and control it all through the BIOS.