Introduction
Asus are well known for quality of build in their products. The A7V333 motherboard is no exception. This particular motherboard is based on the VIA KT333 chipset which has the much touted feature of DDR333 support. This was VIAs follow up to the very successful KT266 range of chipsets.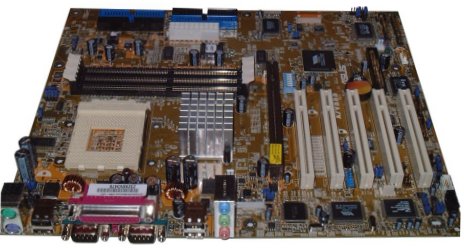 The A7V333 is a AMD motherboard that comes with a whole host of special features. The usual on board devices that are showing up more often as well as a couple of more unique ones:
AMD Athlon XP Ready

ASUS C.O.P

DDR333 (PC2700) Support

RAID ATA133 (optional)

USB 2.0 Ready

ASUS Q-Fan

6-Channel Audio (optional)
There are two items here that clearly stand out. The ASUS C.O.P and the ASUS Q-Fan. The ASUS C.O.P simply stands for CPU Overheat Protection. Supported for use with the XP chips only, it automatically shuts down the computer if large degree of heat is detected, apparently before any damage is done. To be honest I was too chicken to test this, but I will take their word for it.
The ASUS Q-Fan is designed to cut down the high pitched noise that a lot of fans produce. Q-Fan technology controls the speed of the fans on the system according to system load and slows them down or speeds them up accordingly.
The on board audio is better than most on board audio solutions that are offered to date. Based on the CMI8738 chip, it supplies a quite high quality sound with supported 5.1 speaker configuration. Whether this is truly needed in a performance board is of course debatable. Many people dislike having on board sound, so if its a pro or con is too hard to say.

The picture above gives us a view of the ports available with this motherboard, showing full legacy support I doubt a manufacturer such as ASUS that puts great store in on board features will go down the same route as ABit for a while with their legacy free AT7 motherboard.