ASUS EN8600GTS - appearance and thoughts

First up we have the ASUS EN8600GTS.

Looking round online vendors left us rather confused. ASUS appears to have two cards that share the same name. One uses NVIDIA's reference cooler, the other, featured here, does not.

Instead, ASUS has replaced the reference cooler with its own custom solution. And its chosen design is somewhat reminiscent of Thermaltake's Orb CPU coolers - as detailed in this group test.

The ASUS website only shows the review card, so take care - you could end up buying one with a standard cooler by mistake.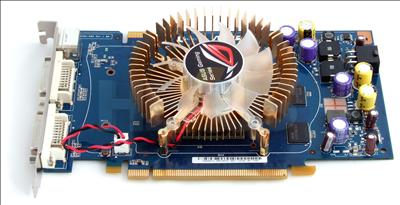 The Inno3D iChiLL 8600GTS XStriker3 that we looked at recently also uses a custom cooler and, just like it, the EN8600GTS occupies two slots within a system. Similarly, the fan uses a two-pin header, not the four-pin connector of the reference cooler.

Unlike the Inno3D, though, the ASUS only cools the GPU core - there's no claim about it cooling the onboard RAM. And the memory has no heatsinks to aid cooling either.

The cooler works well, however, resulting in low noise and low temperatures. But the lack of memory-cooling could prove a limiting factor in overclocking performance - though we'll find out later.

Fact is, ASUS has left the clock speeds more or less as standard. The memory sees a slight bump up to 2016MHz from around 2GHz but with competitors already running in excess of 2200MHz, the ASUS starts off at a slight disadvantage.

Apart from the cooler and the pin-header, the card seems to be as NVIDIA originally intended, with no further changes to the components. The card is even marked up with a component-exclusion zone that's reserved for the reference cooler.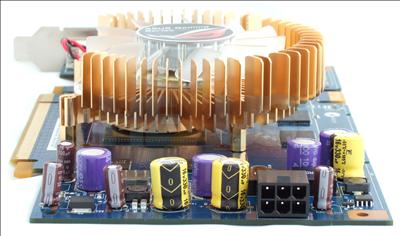 On the inside end, we have the power circuitry, complete with six-pin power-connector - as seen on all 8600GTS cards.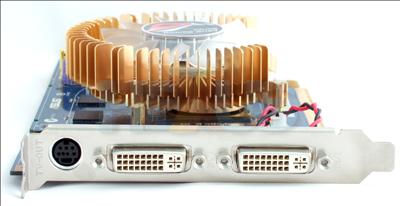 Up the other end are two HDCP-protected dual-link DVI ports, along with a TV-out mini-DIN socket.
Summary
As with all the previous 8600GTS SKUs we've looked at, ASUS has stayed with the reference design for the PCB. However, the custom cooler does a good job of keeping the GPU core cool and the noise-levels down. But the low clock-speeds and lack of memory cooling could disappoint.

Looking at online retailers sees the card available for around £125. That puts it among the lower-priced 8600GTS offerings, as you'd expect given the clock speeds.