Appearance and thoughts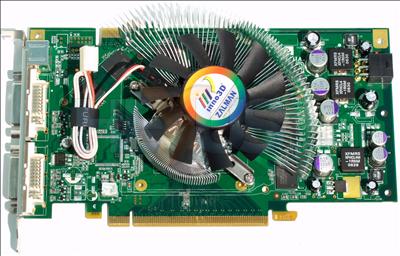 Inno3D's taken the basic GeForce 7950 GT design and pre-fitted a Zalman all-aluminium heatsink on the default-clocked 550MHz core. With such obvious attention paid to cooling, we'd have hoped for a speed bump to around 600MHz, but there you go. Unlike its Inno3D GeForce 7950 GS stablemate, the 7950 GT's cooling doesn't extend over the reference-clocked 512MBit GDDR3 modules.

We can appreciate that it's seemingly obvious from the above picture, but you need to connect the Zalman cooler's fan header to either a 3-pin connector on your motherboard or to an adapter cable, which wasn't provided in our sample's bundle. Note that if connecting directly to the motherboard, you'll need to ensure that the header supports fan control. If not, the Zalman fan will spin at full speed. The fan is quite noisy at full pelt but drops down to around 1,000RPM, and is consequently fairly quiet, when connected to a fan-control header. It doesn't rise in speed or pitch a great deal when under load, so that's good news.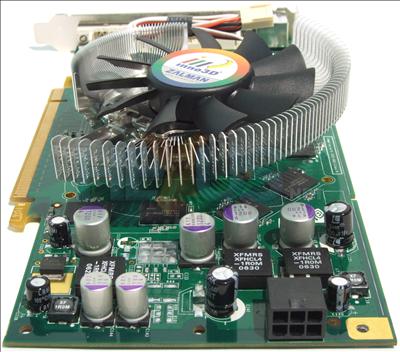 The above picture highlights the size of the cooler, which will take up an adjacent slot to the 16x PCIe's, so, in effect, it becomes a double-width card, making space and upgrading a premium if installed in smaller chassis.

With an ambient temperature of 22C and idling in 2D at 47C, the large cooler kept the GPU humming along at 69C load when its fan was plugged in via a fan-control header. That puts cooling performance generally in line with XFX's fanless design.

The GeForce 7950 GT is still a power-hungry SKU, and an auxillary power connector is required to provide juice over and above what the 16x PCIe slot provides.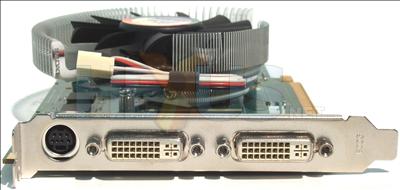 A couple of dual-link DVI outputs offer you the possibility of running extremely high resolutions from each port. Each port has enough bandwidth to run, say, a 2560x1600 screen, and Dell's 3007WFP and Apple's 30in Cinema models always spring to mind.

As noted earlier, all GeForce 7950 GT SKUs have inbuilt HDCP (High-Bandwidth Digital Content Protection) support, meaning that you can watch high-definition media on compatible DVI/HDMI-equipped devices. HD-DVD and Blu-ray on Windows Vista, for example. Good, good.

So, other than adopting a larger cooler, the Inno3D GeForce 7950 GT Zalman Edition is, really, your garden variety 24-pipe G71. You can, hardware and funds permitting, strap a couple of these together and benefit from the performance speedup associated with SLI usage, of course.