Interior Layout and Thoughts
SilverStone Grandia GD10 Specification

Model
SST-GD10B (black)
Material
Aluminum door with plastic front panel, 0.8mm steel body
Motherboard Support
SSI-CEB, ATX, Micro-ATX
Drive Bays
External
5.25in x 1 (compatible with 3.5in x 1 or 2.5in x 2)
Internal
3.5in x 2 (one compatible with 2.5in), 2.5in x1
Cooling
Rear
Supports 2 x 80mm fans
Right Side
Included 2 x 120mm intake fan, 900rpm, 18dBA
Left Side
Included 1 x 120mm fan, 900rpm, 18dBA
Expansion Slots
7+1
Front I/O Ports
USB 3.0 x 2
Audio x 1
Mic x 1
Power Supply Standard
ATX (not included)
Clearances
Heatsink
138mm
PSU
220mm (180mm recommended)
Graphics
310mm
Net Weight
4.8kg
Dimensions (W x H x D)
442mm x 171mm x 362mm
UK Price
£69.95
There's support for Micro-ATX, ATX or SSI-CEB motherboards and a seven-plus-one expansion-slot configuration provisions for multiple graphics cards or, if need be, a TV tuner. Plenty of room for most core components, though it's interesting to see that SilverStone has cutback in regards to storage. A single 5.25in optical bay has remained, but there aren't a great number of drive-mounting opportunities. A single 2.5in drive can be fixed to the floor of the case, a single 3.5in drive can be attached inside the front, and there's room for either one 3.5in or two 2.5in drives on the underside of the removable 5.25in tray.
Plenty of options for most users, we feel, though given the size of the case you might have expected one or two additional bays. There should be no such shortage in the cooling department, however, as SilverStone equips the GD10 with three 120mm fans as default - two on the right side of the case, one on the left. We like the fact that all three, plus the PSU bay, are protected with plastic mesh filters that are easily removed for cleaning.
Certainly ample room for a high-end build. Our test components include an Asus Sabertooth Z77 motherboard, an overclocked Intel Core i5-3570K processor running at 4.4GHz, an Arctic Freezer 13 cooler, 8GB of G.Skill DDR3 memory, a SanDisk Extreme SSD and an EVGA GeForce GTX 970 FTW graphics card.
Such a specification would allow for excellent gaming potential on a full-HD TV, but the build process wasn't entirely trouble-free. Our normal PSU - a Corsair HX1000 - wouldn't fit without removing the pre-installed fan, so was substituted for a smaller CX430. And there are a few other component restrictions worth knowing about.
There's plenty of height for our Arctic Freezer 13 CPU cooler, but having it in place doesn't leave room for the optical-drive tray - we had to go without, so if you definitely want optical capabilities, you'll need to consider a thinner or shorter CPU cooler. Remember, also, that losing the optical tray would mean missing out on a drive bay, too.
Those are the few complications that may arise, yet other than that it's an easy chassis to work with. It feels roomy even when outfitted with an ATX board and a long graphics card, and cooling performance is more than sufficient. With the aforementioned components, the GD10 was able to keep CPU and GPU temperatures below 75ºC when running Prime95 or while gaming.
Summary
One of the challenges when designing a HTPC chassis is to choose which type of consumer you're hoping to lure. Some will prefer HTPCs that are incredibly small, some won't accept anything that isn't completely silent, while others will want a case that accepts their existing components without too much fuss.
It's the latter scenario that the Grandia GD10 has covered. Willing and able, the case can accommodate a full-size desktop motherboard, high-end graphics and sufficient cooling in a form factor designed to suit the living room.
SilverStone has the basics covered, but the price points of the GD09 and GD10 are telling. At £50 and £70, respectively, the new additions are positioned well below their predecessors - the GD08 still fetches over £100 - and the cost reduction is evident in parts. There are no tool-free mechanisms, the front-panel lock is crude and, though the default trio of fans do run quietly, there's no sound-dampening material to reduce overall noise output.
This isn't the HTPC case for everyone, however it does suit a specific purpose. Want to convert your existing desktop into a living-room-friendly format without breaking the bank? The latest Grandia has you covered, though it's the cheaper GD09, at £50, that would be our first pick.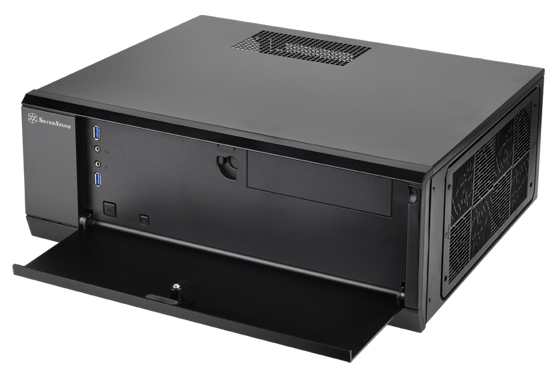 SilverStone Grandia GD10

The Good

The Bad

Takes an ATX board with ease
Room for powerful graphics
Removable mesh filters
Good cooling performance
Pre-installed fans run quiet

Front-panel lock is very basic
£20 premium over the GD09
CPU cooler may foul 5.25in bay
No sound dampening
Big for a HTPC solution
HEXUS.where2buy*
The SilverStone Grandia GD10 HTPC chassis is available to purchase from Scan Computers.
HEXUS.right2reply
At HEXUS, we invite the companies whose products we test to comment on our articles. If any company representatives for the products reviewed choose to respond, we'll publish their commentary here verbatim.