The Roswell
Over the past year we have seen some major changes in what people want from their PCs. More and more people are using them now than ever, and a lot of people want it to look nice. But I hear you cry 'why?'… Well, instead of having a boring normal case you can now have something which is a lot more attractive, which is nice to have as a system. There are a lot of people who go to LAN parties and other events with their system, and it is nice to have something different. Recently in the USA there have been a lot of products which can do this for you and your system, and only recently we have seen stores in the UK specialising in these items. The major store in the UK for customized system chassis' is CoolCaseMods.com. These guys work very hard to source premium products for their store to sell to us, the end-users. They also have a lot of stuff which is pretty unique to them as no-one else has it to sell. They have sourced it from non-normal suppliers (like Retro case handles).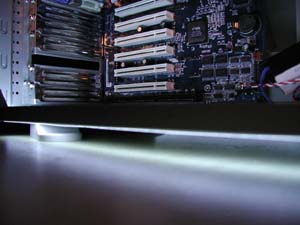 Sneak peak: The Glowing from underneath the case
They do a range of cases: from GlobalWins to low-end generic ones and also high-end cases such as Lian lis and also AVGS based types. Their range of cases is extensive, they will also do a custom case for you. They can either cut a window into it and mount the window, paint the case, put in neon strings or plates… the list is endless. It is all down to personal taste what you want it to be like. The advantage of CoolCaseMods is that they sell the range and they also will customise them for YOU. This store specialises in modded cases with a large range of stock items. They ONLY sell case modding items.
Right so onto the case - what have they done? Well they have taken the GlobalWin 802 case which is a very popular case amongst people in the hardware world. GlobalWin the case specialists have made a very sweet case here (Well not made, but sourced). The case is exceptional value as it is retailing at around £45, which is a very competitive price when you are getting a case which is very easy and good quality to work with.
GlobalWin Specs:-
Measurement: 501.5mm (D) x 195mm (W) x 454mm (H)

Three 5.25' exposed bay

OEM and standard driver panels are convertible.

Two 3.5' exposed bays, five 3.5' hidden bays

Hand-cutting free

Full/Baby AT and ATX version M/.B.

Variation in ATX power supply wattage available

Interchangeable I/O shield and keep out zone are in compliance with Intel ATX 2.01 version
Changes:-
*CoolCase Roswell* Global Win 802 Case with window kit. The inside has Blue neon strip fitted to the base to give a overall glow to the inside of the case, and fitted with a neon strip under the base.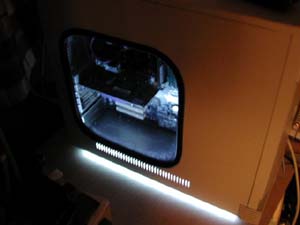 Price:- £125.00
How does the case come to you? Well they ship it to you in the original box (The one that GlobalWins are normally sent in) with all of the mods done. If you wanted to do the mods yourself I am sure they will sell you a RosWell kit so you can do this yourself. The case came via Citylink who are one of the best couriers in the UK. (Wouldn't be hard - bitchy ed.) It was perfectly packaged and no damage was caused at all. I think you could probably drop this case when boxed and there wouldn't be any issues with it.
This is the second time I have looked at the GlobalWin cases. The first time I looked at them was the time I got my Coolermaster. This meant that I was a little harsh on the case (as I had a £200 system case.) This case is a damn good case - very well built and with the professional mods, it is exceptional.
In a way I am very impressed with this unit. I wasn't worried about using it straight away, It is very sweetly modded: not over the top, but it is done to a level which looks very "leet". I am not a gamer so I am not going to turn around and call this case a l33t a$$ case but it is a very good unit.
The case itself is a midi tower case with removable side panels (which are held on with thumb lock screws. Simply 2 screws and then you have the side off. The top, left, and right is removable. These cases are quick and easy to get access to. You also have a removable motherboard tray to get easy access to the board. There are also 2 locations for 80mm case fans. Right, so this is a pretty normal case? Yeppers you have it right there. The case itself is high quality and it is a rather easy unit to use.
What have they done? Well they have firstly removed the right panel (the one which is above the motherboard tray, and they have done a little mod to it to make it look even sweeter. What they have done is put in a window for the case. This allows an easy view to the components. I was very surprised when using this unit how good it actually looked. I hear you at the back are shouting…. You want to know what's the point in seeing inside the case when you can't actually see in it when it's dark inside the case. What they did do was to make the case look even smarter by putting in a neon light - not a normal neon light but a neon strip. they place this within the case so that it can glow all over your components looking very cool. What you could do yourself is to get hold of some glowing paint which will glow when the neon shines on it.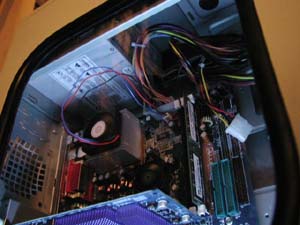 A Glowing case... ;)
As a company they have also made a clever way to use the inverter which I haven't seen before. They have used a phono plug and socket to make it easier to connect to the system. It is wired up just like your headphones (for your stereo). It allows very quick fitting for the consumer. The reason you need the inverter is to make the neon strip glow. It basically converts from the normal system 12vs to a 100Hz source which is needed for the neon strips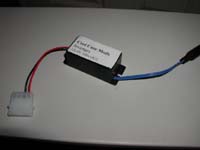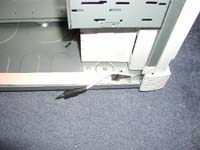 The Inverter and next to it you can see the neon strips and the connector
The final thing which they did to the case was to put a thinner strip of neon sheets around the bottom of the case. This is what shows it in a 'UFO style', which is where the case gets its name RosWell from.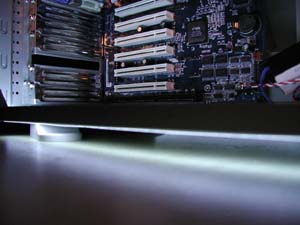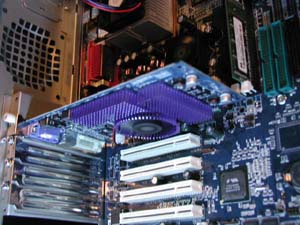 The Glowing BEAST!
The case window is mounted very professionally - no marks or anything, it is perfect. This is shown all over the smooth case. They only use premium components within the construction. To run the bottom neon strips they have simply drilled a small hole in the bottom of the case, which you can't see anyway. But the unit is done perfectly, without any problems with any part of the case. The window is held in with some very strong rubber seal, which itself is very strong. I don't think the window will come out in a hurry.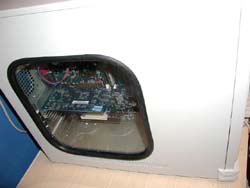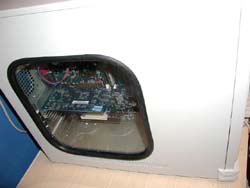 The Window mounted on the unit.
The neon strips - [ I still don't know the proper name for the stuff ;) ] are used as it wont cause any damage or get broken like a normal neon light bulb. Bulbs could of course be damaged if you dropped something on them or the case was dropped, and it would shatter all over your kit. Another advantage is that it is very bright and also "out of the way". It doesn't obstruct the use of the most important reason for this case - to put your system in it.
I like this case. It is very well made and with the enhancements done by CoolCaseMods.com it looks good. It means you don't NEED to do anything bar build your system into it. These guys are professionals - they don't do poor kit. I would like to see this case developed more for LANs and have handles put on it. I personally would like to do a few changes but I am scared to do so. The guys at CCM have done such a good job it isn't worth damaging or spoiling them.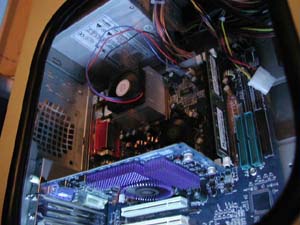 Man that looks KOOL!
This case with its cool features and good professional mods is exceptional value. It has the possibilities to be modded further if you need to, but I don't see any reason to do this. What am I most impressed with? Well, the way that they have made the invertors on the neon unit so easy to fit and use, click done.
What would I change? I would consider putting in a couple of blow holes in the side of the case and perhaps one at the top this will mean that it can be used for overclocking and pushing your system more (i.e. it will be more stable). Apart from that I can't think of any tweaks which could be made to this unit. It is perfect as it stands. With the low number of flaws I suggest this case to anyone whom wants anything different. You can have it in purple or blue. I have had the blue unit here for a while now and it looks good with my blue motherboard and other components. I think that CoolCaseMods should bundle the case with some rounded cables (ed. HINT!) So what next? Well, dive over to CoolCaseMods and grab one!