Netgear today announced a new range of Network Attached Storage (NAS) products. The new models will be part of the award winning ReadyNAS range and come with the newly developed ReadyNAS OS 6 installed, which is said to provide a "sleek new interface and a rich set of embedded or easily downloadable applications". The new range includes four series; from the entry level ReadyNAS 100 Series (RN102xx, RN104xx) aimed at home users, to the six-bay ReadyNAS 500 Series (RN516xx) which is designed for small to medium sized business networks supporting up to 250 concurrent users.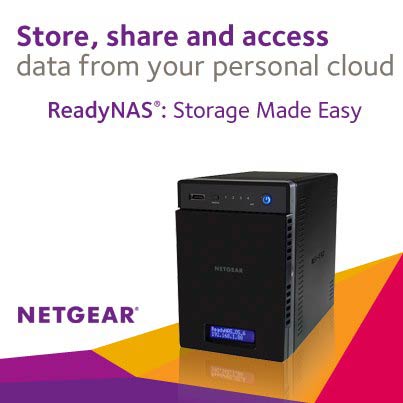 ReadyNAS software
Common features of all the new ReadyNAS devices include; "advanced on-box data protection in the form of unlimited snapshot capability, cloud-managed replication, and XRAID automatic volume expansion. In addition, each unit showcases native encryption, enabling prosumer and business users to securely share, store, and protect sensitive data across their network". The ReadyNAS is compatible with "all leading backup software" including Apple's Time Machine and also features its own real-time anti-virus protection.
The genie+ marketplace contains third party apps which can be installed on your ReadyNAS to enhance its functionality. The range of apps available includes "productivity tools, media sharing applications, and a variety of other useful apps".
Another useful feature is the DropBox and ReadyDROP integration. ReadyNAS Remote allows you to access your NAS files from anywhere in the world with ease from any device with a web connection. ReadyDLNA media streaming is also a standard feature.
ReadyNAS hardware
ReadyNAS 100 Series: The RN102xx, RN104xx are designed for home use and come in two and four bay models respectively. Netgear offers units for sale with or without disks already installed. Prices start from $199.
ReadyNAS 300 Series: The RN312xx, RN314xx, RN316xx are optimised for SMBs and are two, four and six bay versions respectively. Prices start from $449.
ReadyNAS 2120: This is a four bay rack mount unit for small data centres. Prices start from $1,229.
ReadyNAS 500 Series: The RN516xx is the highest performance option for SMBs with six bays and can support up to 3250 concurrent users. Prices start from $1,299.
Simplifying the product lines
"We came to realize that our naming methodology was confusing, and we were running three operating systems in the product line. With this launch we want to eliminate all that confusion for both the consumer and reseller" said Matt Pahnke, Netgear's senior product marketing manager for storage.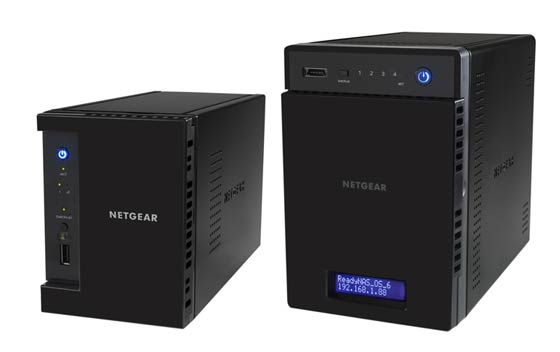 ReadyNAS 100 Series: The RN102xx and RN104xx
In the consumer space, where the ReadyNAS 100 series is targeted, the Stora and Duo lines are to be dropped. The installation and UI have also been simplified. An easy web based setup is available; when a device which you want to discover the NAS goes to a predefined web page you simply press a button on the NAS to authorise it. The ReadyNAS 100 systems are all powered by Marvell Armada 370 1.2GHz processor and have a single USB 2.0 port, two USB 3.0 ports and 512MB of memory. Each of the drive bays can house 2.5-inch or 3.5-inch SATA drives.