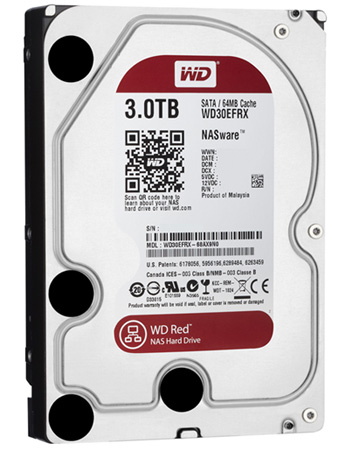 Storage specialist Western Digital has this week expanded its range of 3.5in hard drives with the launch of WD Red.
Unlike the company's existing Blue, Green and Black lines - which target the mainstream, eco-friendly and performance segments, respectively - the WD Red is designed specifically for use in network-attached storage (NAS) devices with one to five drive bays.
Available in 1TB (£70), 2TB (£90) and 3TB (£130) capacities, the Red drive is equipped with a SATA 6Gbps interface, an onboard 64MB cache and IntelliPower technology that dynamically adapts the drive's rotational speed based on usage scenario.
The drives are capable of data transfer rates of up to 150MB/s, but Western Digital is hoping to attract network storage administrators with the implementation of a new firmware technology dubbed NASware.
Designed to enable "seamless integration, robust data protection and optimal performance for systems operating in NAS and RAID environments," NASware makes use of unique algorithms that are in place to find an optimum balance between power consumption and performance.
Western Digital claims that these tweaks result in a 35 per cent MTBF (mean time between failures) improvement over standard desktop drives, and is quick to point out that the optimisation ultimately reduces the long-term cost of NAS ownership.
Hoping to offer "greater peace of mind," Western Digital also backs the WD Red with a three-year warranty. In comparison, the company's Blue and Green lines recently had their warranty periods cut to just two years. Reliability and compatibility appears to be the key message for this new drive, and to that end Western Digital has teamed up with a number of NAS manufacturers - including the likes of QNAP, Synology and Thecus - to guarantee compatibility with a wide range of devices. A full list of qualified NAS systems is available at westerndigital.com.