Cheap as chips
We reckon that the blazing-fast performance of the Crucial RealSSD 256GB solid-state drive has put it near the top of many an enthusiast's wishlist. Performance and value rarely appear in the same sentence as far as high-end PC kit is concerned, and the 256GB drive currently retails for a wallet-beating £500.

Crucial also sells a 128GB version for £309, with pricing in line with other premium 120GB/128GB SSDs, most notably those powered by the SandForce SF-1200 controller. Now, though, Crucial is bringing the RealSSD down to the mainstream with the launch of a 64GB model, priced at a tasty £121.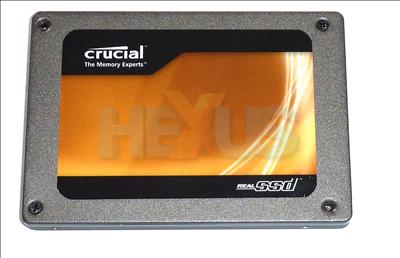 So how can Crucial launch a drive at significantly less than half the price of the 128GB SSD? The devil is in the details, so let's trot out a simple table and unearth the vital stats.


| | | | |
| --- | --- | --- | --- |
| Crucial RealSSD C300 | 64GB | 128GB | 256GB |
| Interface | SATA 6Gb/s | SATA 6Gb/s | SATA 6Gb/s |
| Read speed (up to) | 355MB/s | 355MB/s | 355MB/s |
| Write speed (up to) | 75MB/s | 140MB/s | 215MB/s |
| Random write 4K IOPS | 15,000 | 30,000 | 45,000 |
| Controller | Marvell | Marvell | Marvell |
| Buffer chip | Micron | Micron | Micron |
| Buffer size | 128MB | 128MB | 128MB |
| TRIM support | Yes | Yes | Yes |
| Retail price | £121 | £309 | £500+ |
| £ per GB | 1.89 | 2.41 | 1.95+ |

The 64GB model has the same blistering sequential read speed of up-to 355MB/s, necessitating a SATA 6 Gb/s interface, but suffers when it comes to writing files, peaking at just 75MB/s. The RealSSD's Marvell controller works better with a larger number of NAND chips, using them in tandem, and this is why the 256GB C300 is so fast.

A reduction in sequential writing performance is also mirrored in the random write 4K IOPS figure that comes in at one-third of that specified on the 256GB drive.

But we think that SSD reading-speed performance is more important for the majority of consumers. Factor in the read speed and comparatively excellent price-per-GB metric for a small-capacity SSD, which is well under two, and the 64GB C300 makes a decent case as a boot drive for your system.

We hope to have one in the labs soon, so stay tuned for the full review.