When it comes to solid state drives (SSDs), the majority of big-name memory manufacturers - including the likes of Corsair and OCZ - have been eager to adopt the technology, launching quicker models on an almost monthly basis.
It's a surprise, then, to see that Crucial - now merged with Lexar Media as the consumer arm of Micron - is only today rolling up its sleeves and showing its SSD ambition. Although the California-based manufacturer already offers plenty of flash-based products, today marks the arrival of its first high-capacity and high-speed drive - the Crucial M225.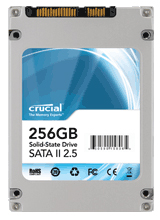 The 2.5in drive is available in 64GB, 128GB and 256GB capacities, and promises to "enhance system performance by improving operating system boot and application load times". All three feature MLC NAND flash memory, and Crucial's flagship 256GB drive (pictured left) promises read and write speeds of up to 250MB/s and 200MB/s, respectively.
The 128GB drive, meanwhile, reads at up to 250MB/s and writes at up to 190MB/s, while the smaller 64GB drive will provide read speeds of up to 200MB/s and write speeds of up to 150MB/s.
Impressive numbers, and the drives - backed by a five-year limited warranty - are available now priced at £104.99, £201.99 and £367.99 in order of capacity.