PCIe-based SSD storage solutions aren't particularly new, and OCZ's 1TB Z-Drive is already in production. So what's the hold up with Super Talent's RAIDDrive GS?
The 2TB drive, pictured below, is the gamer-orientated edition of the RAIDDrive series and promises blistering read and write speeds of up to 1,300MB/s. That's made possible by putting together four of Super Talent's 512GB UltraDrive SSDs in a RAID0 config, and connecting the complete unit via a PCIe x16 slot.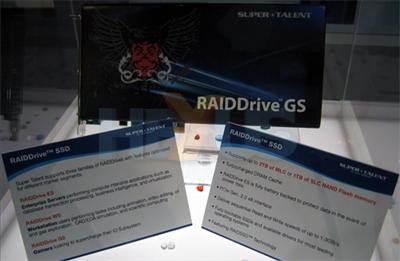 Trouble is, we'll be waiting a few more months before it reaches retail, and Super Talent tells us that the wait is the result of it trying to do something a little different. According to the outfit's marketing director Joe James, the RAIDDrive GS may come with top-mounted eject buttons, allowing each of the four SSDs to be hot-swappable and easily replaceable.
Super Talent's not promising it'll happen, but it's being contemplated. Considering it'll cost an arm and a leg, it could probably do with a few party tricks to help entice buyers - if the blistering speeds alone aren't enough, that is.