How to make SSDs (solid-state drives) faster? Right now, the limiting factor seems to be the interface, running at 3.0Gbps on SATA2 drives. Seagate and AMD recently demonstrated 6Gbps SATA, but we foresee a time, in the not-too-distant future, when that bandwidth will be saturated by super-fast SSDs.

Fusion-io has already spotted the bandwidth restrictions and released the PCIe-based ioDrive, touting a 320GB model that interfaces with the system via a PCIe x4 link.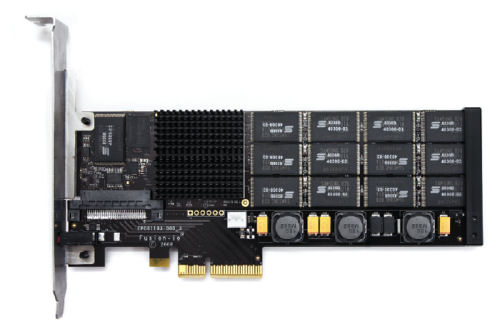 The MLC drive supports read/write speeds of 700MB/s and 500MB/s, respectively, based on random 32KB packet reads and 8KB writes, so it's pretty frikkin' fast.

Upping the ante, Fusion-io has announced the ioDrive Duo, upping per-drive capacity to 640GB - 1.28TB in late 2009, too - and sporting incredible read/write speeds of 1,500MB/s and 1,400MB/s, respectively, based on 32KB packets.

The numbers are mindboggling, but so will be the price, as the first-generation ioDrive 320GB cost a cool $14,400.

With plenty of bandwidth from a PCIe Gen 2.0 x4 link, just imagine four of these in RAID0!