Relatively speaking, SSDs are a nascent technology and there's still a lack of standardisation across the industry. A new working group is looking to change all that, though, and has the backing of a few of the tech-world's biggest players.
The SSD Form Factor Working Group is primarily a collaboration between Dell, EMC, Fujitsu, IBM and Intel, with Fusion-io, Micron Technology, Molex, SandForce and Marvel Semiconductor among the contributing members.
The goal of the group is to create standards for easy to use, feature rich and highly optimised SSDs and interfaces that leverage the performance of the PCIe interface. The focus at the moment seems to be on developing a new connector and interface which will be interoperable with SAS/SATA 3.0 as well as PCIe 3.0. The group will also look to expand on the 2.5in form factor with a new standard that integrates the redesigned connector and the ability to hot-plug.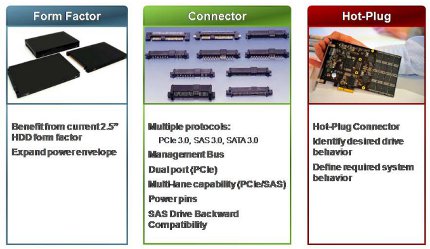 According to Intel's Jim Pappas, "we're not looking to replace existing standards, but looking to improve end user benefits with PCIe," adding that "we're not taking anything away. This is incremental improvements."
Obviously the creation of new standards can result in a splintered user base. However, the fact that the group has recruited so many major players in the SSD market and that it's mindful of interoperability and backward compatibility bodes well for any new formats. Though there are some notable omissions from the list of members, the group's doors are apparently open, with Pappas commenting that "any company can join".
The first new standards are expected to be finalised by the middle of next year, with the first wave of products following shortly afterwards.