Samsung has started to mass produce its latest high performance SSDs for severs and data centres. The new PM1733 and PM1735 series arrive with 19 different models with capacities ranging from 0/8TB to a whopping 30.72TB, in form factors like HHHL (card-type) and 2.5-inch U.2.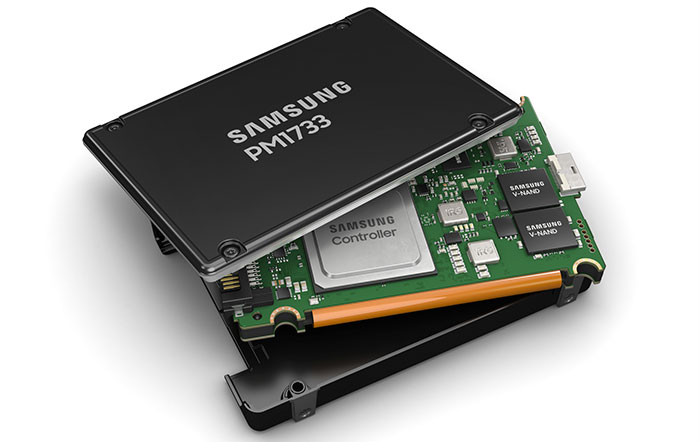 The Samsung PM1733 & PM1735 utilise PCIe Gen4-based interfaces and can perform up to 14 times faster than SATA-based SSDs, with the new 12.8TB PCIe Gen4 NVMe SSD (PM1735), for example, achieving 8GB/s for read operations and 3.8GB/s for writes. Furthermore, the new Samsung PM1735 drive can deliver 1,450,000 IOPS for reads and 260,000 IOPS for writes.
The full range of new Samsung PM1733 & PM1735 drives are summarised in the chart below.

Beyond the pure hardware specs, impressive as they are, Samsung recognises that good firmware and software is important to a slick product. "We are combining breakthrough speeds and capacities with revolutionary software solutions as we accelerate expansion in the premium SSD market," said Kye Hyun Kyung, EVP of Memory Solution Product & Development at Samsung Electronics.
In particular there are three software innovations present in the new SSDs; Samsung FIP technology, Samsung SSD virtualization technology, and the company's V-NAND machine learning technology.
The "revolutionary," feature as per our headline today is the new FIP technology which seeks to ensure SSDs operate normally even when errors occur at the chip level, "enabling a never-dying SSD for the first time in the industry". Samsung says its FIP software can detect a faulty chip, scan for any damage in data, then relocate the data into working chips, thus avoiding the costs associated with system downtime and hardware replacement.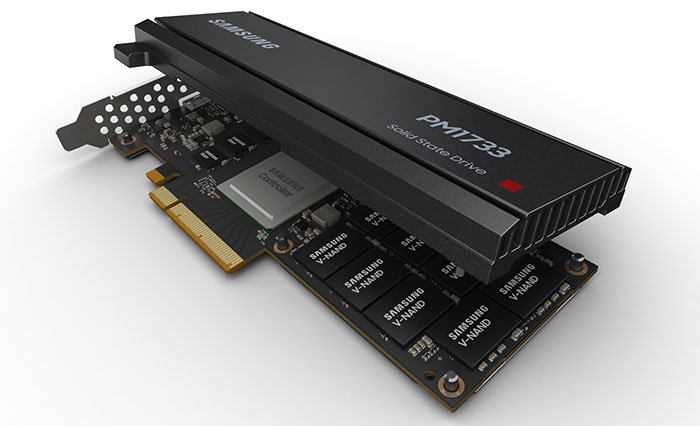 One of Samsung's new HHHL form factor SSDs
It is worth mentioning the other two software innovations from Samsung. Its SSD virtualization technology allows a single SSD to be subdivided into a maximum of 64 smaller SSDs, providing independent, virtual workspaces for multiple users. The tech even lets SSDs take on some of the virtualized tasks typically carried out by the server CPUs, such as Single-Root I/O Virtualization (SR-IOV), requiring fewer server CPUs and SSDs.
Lastly, "V-NAND machine learning technology helps to accurately predict and verify cell characteristics, as well as detect any variation among circuit patterns through big data analytics." This is another data reliability feature especially useful with these very fast drives which pose a challenge in reading and verifying data through the extremely rapid voltage pulses.
Samsung plans to expand the use of the above software technologies into a wider array of server and data centre SSDs.