We saw Gigabyte tease the "world's first PCIe 4.0 M.2 SSD, last week," which it said was capable of 5GB/s speeds (given suitably cool temperatures). At Computex that product appears to have become official under the Aorus brand as the Aorus NVMe Gen4 SSD.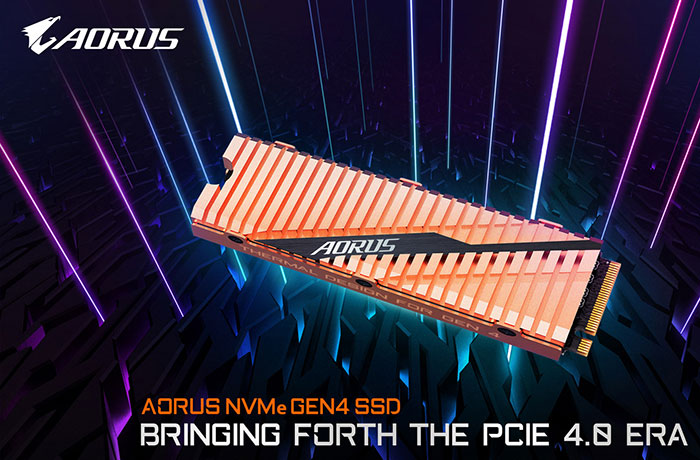 This new M.2 SSD features a rather fetching full body copper heatsink to improve its heat dissipation properties. The design features 30 fins, with a sandblasted finish to boost the effective surface area. Gigabyte had installed the double sided copper heatsink on top of a Laird high-conductivity thermal pad. Hopefully those considerations will be enough to prevent any thermal throttling given a well ventilated chassis.
Gigabyte says the Aorus NVMe Gen4 SSD uses an all new PCIe 4.0 controller with Toshiba Bisc4 NAND Flash memory as its major performance components. Overall users should observe a 40 per cent performance boost over PCIe 3.0 drives. In MB/s terms this translates to sequential read/write speeds at 5000/4400MB/s in in-house testing.
The official Aorus Japan Twitter account has shared some pictures and test results from the Computex exhibition and you can see the advised estimates are close enough to actual results in the Crystal Disk Mark results, as reproduced below.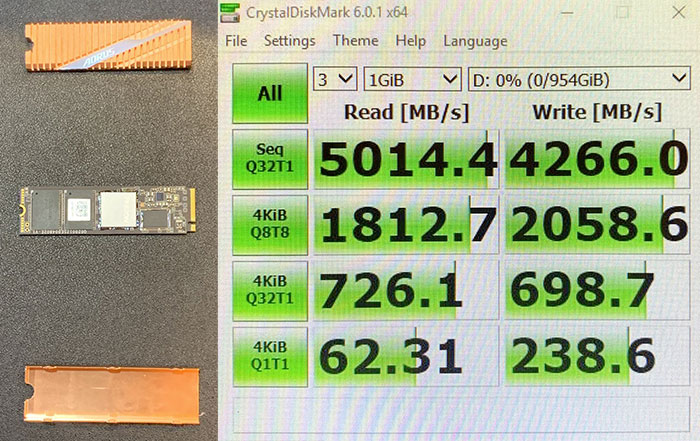 Gigabyte will be making the Aorus NVMe Gen4 SSD available in 500GB, 1TB, and 2TB capacities. I don't have any official information about pricing and availability to share.
Gigabyte Aorus AIC Gen4 SSD
Again via the official Aorus Japan Twitter account, the firm has shared some images and performance tests of a new PCIe 4.0 storage device. The new Aorus AIC Gen4 SSD is an AIC type (add-in-card) SSD connected via PCIe 4.0 x16 slot as you can see.
Key features of the add-in-card include:
Sequential read/write speeds at 15,000/15,000MB/s
Capacity of 8TB
Card uses copper thermal solution with active cooling fan.

Obligingly, Gigabyte Aorus had the card running benchmarks at its Computex 2019 exhibition stand. You can see a screenshot of its test results above. Aorus said that users of 3rd gen Ryzen desktop processors using the X570 chipset will be able to use these AICs but didn't provide a set release date or pricing info.