Gigabyte entered the storage market earlier this year with its first range of SATA SSDs. It dubbed its first 2.5-inch SATA 6.0Gbps SSDs the UD Pro Series and appeared to major on claims of reliability and that the SSDs stood out because they offered a "high quality, ultra durable and superior product experience".
Today Gigabyte has launched into the NVMe PCIe M.2 SSD market. These eschew any sub-branding and are simply known as Gigabyte NVMe PCIe M.2 SSDs. In a press release Gigabyte says that the "initial batch of GIGABYTE M.2 SSDs are available in three capacities, 128GB, 256GB, and 512GB." However, the official product pages only list those lower two capacities at the time of writing. Specs pages are basic in what they reveal, for example we don't know what controller is used or what type of NAND flash.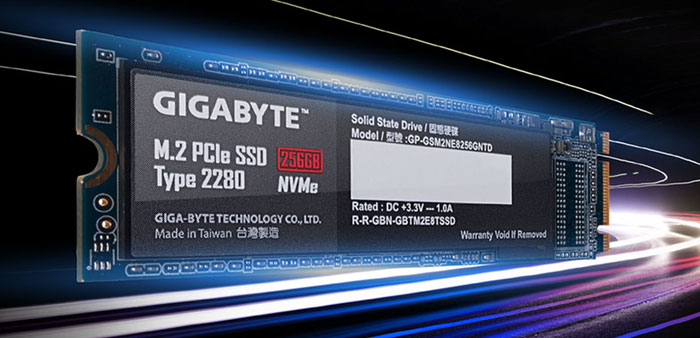 "In comparison with traditional SATA drives, M.2 devices are more compact and offer better performance which makes them perfect for users seeking enhanced storage performance," explained Jackson Hsu, Deputy Director of the Gigabyte Channel Solutions Product Development Division. Hsu added that the drives built on the success seen with the UD Pro Series, and follow Gigabyte's philosophy of delivering performance and durability to its customers.

Looking at the two models available, maximum Sequential Read Speed ranges from 1100 to 120MB/s, and max Sequential Write Speed ranges from 500 to 800MB/s, for the listed 128 and 256GB NVMe PCIe M.2 SSDs, respectively. Whichever model you choose, the form factor is M.2 2280, and HMB, TRIM, and S.M.A.R.T. are supported.
We don't have pricing and availability but Gigabyte suggests these are "incredible value", so they should be competitive to existing products out there. The Host Memory Buffer (HMB) feature, mentioned above, utilises the DMA (Direct Memory Access) of PCI Express to allow SSDs to use some of the DRAM on PC system, instead of requiring the SSD to bring its own DRAM - and it saves on component costs. Buyers get a 3 year warranty and both drives listed have a 1,500,000 hour MTBF, and 100TBW and 200TBW ratings respectively.