Time Machine was good, Time Capsule makes it better, says Jobs.
The crowd watched eagerly as Steve Jobs began his keynote speech at Macworld earlier this evening and the Apple CEO wasted no time in getting to what Apple fans want to hear about most, new Apple products.
In a clear indication of four big new items, Jobs declared "I've got four things I'd like to talk about today".
First up, Leopard, Apple's latest version of its MacOS X operating system. As is always the case, sales figures were served up in competition-scaring form. Jobs stated he was "thrilled to report that we have delivered over 5 million copies of Leopard in the first 3 months", the most successful OS X release to date.
Then, in a rather unnerving turn of events, Jobs took the time to thank competitors that had developed software to work natively on Macs. The highlight was that "Microsoft is now shipping Office Mac 2008". A thanks to Microsoft, from Apple, honest.
Moving swiftly on, Jobs revealed the first new release of the evening; Time Capsule, a backup appliance that automatically and wirelessly backs up everything on one or more Macs running Leopard.
Featuring a 802.11n base station containing a server grade hard disk, Time Capsule can connect wirelessly to backup all your Macs in conjunction with Leopard's Time Machine. Available in February, the Time Capsule will be available in two models, a 500GB model for $299 and a 1TB model for $499.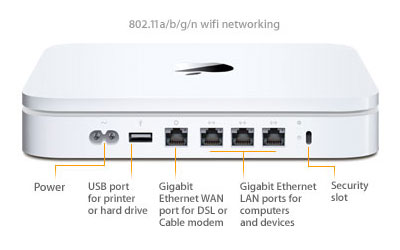 "Bring Time Capsule home, plug it in, click a few buttons on your Macs and voila—all the Macs in your house are being backed up automatically, every hour of every day," said Jobs. "With Time Capsule and Time Machine, all your irreplaceable photos, movies and documents are automatically protected and incredibly easy to retrieve if they are ever lost."
Additional Time Capsule features include:
dual-band antennas for 2.4 GHz or 5 GHz frequencies;
three Gigabit LAN ports;
one Gigabit Ethernet WAN port;
one USB 2.0 port;
Wi-Fi Protected Access (WPA/WPA-2), 128-bit WEP encryption; and
a built-in NAT firewall supporting NAT-PMP for features like Back to My Mac
Official press release: Apple Announces Time Capsule