VMware has introduced the third major revision of its Fusion virtual machine software for Mac computer systems.
Fusion 3, available to purchase in the U.S. at a cost of $79.99, features over 50 new features and enhancements - the highlight of which is arguably the promise of a "full Windows 7 experience".
For users wanting to run Microsoft's latest operating system on their Mac, VMware Fusion 3 offers full support for features such as Windows Aero and Flip 3D, on either 32-bit or 64-bit versions of Windows 7.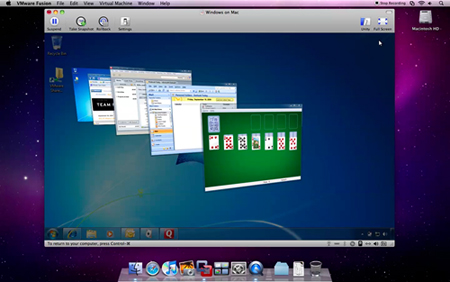 There's also the introduction of support for DirectX 9 and OpenGL 2.1, opening the door for users to play Windows-based games on their Mac.
Other improvements include native support for Mac OS X Snow Leopard's 64-bit kernel, the ability to find and launch Windows-based applications from within OS X, and a new built-in Migration Assistant aimed at helping users switch from PC to Mac.
Users of Fusion 1 or 2 can upgrade to the latest release at a cost of $39.99, and a free 30-day trial is available to download at vmware.com/tryvmware. VMware Fusion 3 will be available in Europe and Asia starting Tuesday, November 4th.