Intel has announced that it has started shipping its Stratix 10 DX FPGAs to customers. These 14nm field programmable gate array chips deliver a number of advances, namely; support for Intel Ultra Path Interconnect (Intel UPI), PCI-Express (PCIe) Gen4 x16 connectivity, and a new controller for Intel Optane technology. The goal is to provide these accelerator chips to customers for which it will dramatically boost acceleration of workloads in the cloud and enterprise.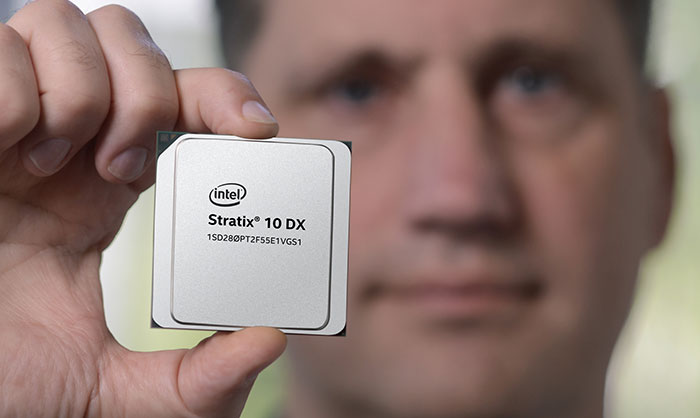 In its press release Intel seeks to highlight the new interfaces built into its Stratix 10 DX FPGAs and mentioned the intro above. It says that thanks to this design choice users will see dramatically increased bandwidth. Importantly, Intel's customers will utilise the Stratix 10 DX FPGAs to accelerate networking and cloud-based applications such as artificial intelligence training/inferencing or database-related workloads. This in turn frees up the system CPU cores for work on other higher priority workloads, increasing data centre efficiency, says Intel.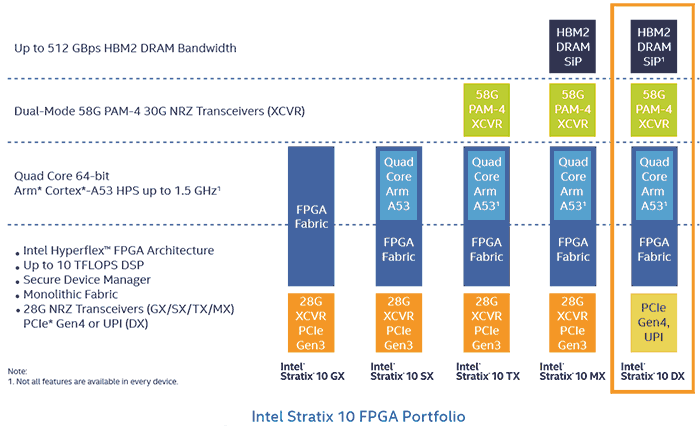 Highlights of the Stratix 10 DX FPGA interfaces and features are as follows:
The UPI interface in combination with future select Intel Xeon Scalable processors will deliver 37 per cent lower latency and improve overall system performance via coherent data movement and a theoretical peak transfer rate of 28GB/second. Memory coherent FPGA interfaces are part of Intel's roadmap as we move toward Compute Express Link availability in 2021.
PCI-SIG compliant Gen4 x16 interface delivers a theoretical peak data bandwidth of 32 GB/second. Both data centre and non-data centre applications will realize about two times more throughput.
Memory controller supports up to eight Intel Optane DC persistent memory modules per FPGA (up to 4 TB of non-volatile memory).
Other existing Stratix 10 FPGA features include 100GB/second Ethernet, HBM2 memory stacks and a quad-core ARM Cortex-A53 processor subsystem with peripherals.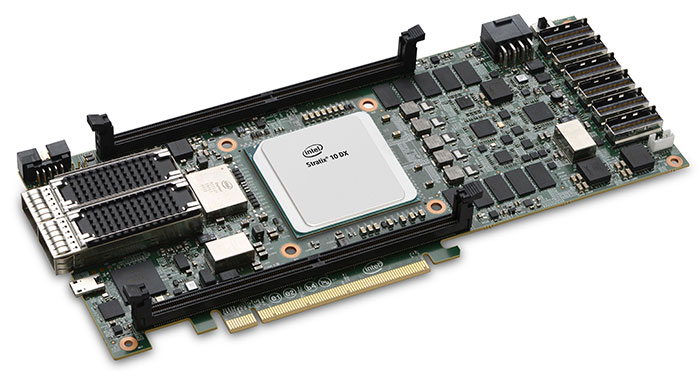 VMware, one of Intel's first Stratix 10 DX FPGA customers, and a high profile one at that, says it helped Intel develop the new FPGAs. In particular it considered coherent FPGA and CPU acceleration solutions to provide its customers high-performing, easy-to-use and reliable infrastructure, both on-premises and in the cloud.