Fresh out of Corsair's labs comes a completely new and innovative heatsink design enabling them to push their RAM modules further than ever before.
The new Dominator DDR2 modules come equipped with what Corsair has dubbed Dual-path Heat eXchange (DHX) cooling. The cooling design adds a couple of new twists to RAM module cooling by introducing heatsinks and extracting heat not just from the RAM chips themselves, but the PCB also.
While heat spreaders have been with us for some time now, heatsinks on RAM appears to be something reserved for the enthusiast/modder with a tube of epoxy. Corsair's design extends upwards, rather than outwards, meaning that two DHX cooled Dominator modules can sit in adjacent slots without any trouble. The biggest barrier will be height of the modules, which may have run-ins with certain motherboards and CPU cooling solutions.
Corsair's decision to extract heat from the PCB as well as the RAMs directly seems to be a justified one. The majority of components on PCBs of any kind conduct their heat away through the copper tracks of the PCB. Even heatsinked components dump a portion of their heat output into the PCB. Corsair has increased the height of their RAM PCB, creating a large copper area connected to the PCB's ground plane. This then comes into contact with part of the DHX cooler, from which heat is then radiated into the air and convected away.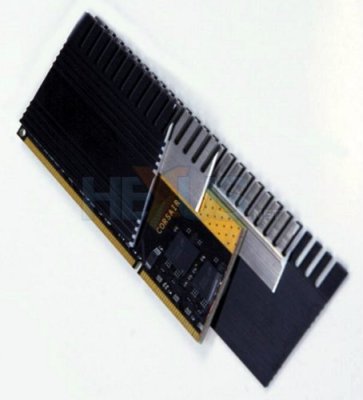 A cutout of a Dominator module showing how the cooling solution connects with the PCB and RAM chips
When 'natural' convection isn't enough, Corsair has produced the Dominator Airflow, an array of three speed-controllable 40mm fans that install directly over the RAM.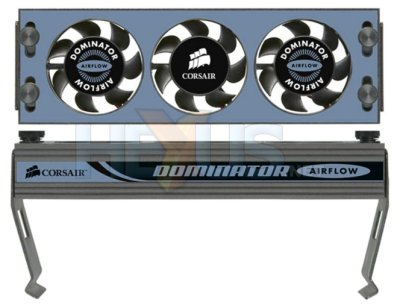 The Dominator Airflow cooler
The end result of the cooling changes is a RAM chip temperature that's 18ºC cooler than a sink/spreader-less design and 3ºC cooler than their PRO series head spreaders. Couple the Airflow with that and temperatures drop 4ºC more. The Dominator Airflow will be available separately and as such can also cool non-DHX based modules.
The purpose of all this cooling innovation is for Corsair to provide modules that it says will last longer under high voltages and lead to higher stable overclocks. Corsair were able to get 24MHz (or 12MHz DDR) more from their 6400C3 RAM with DHX cooling in place. They've got up to 1152MHz so far, although we'll have to wait and see just how far they'll overclock when enthusiasts get their hands on them.
Corsair's launching two new modules right now that'll feature DHX. These are the TWIN2X2048-8888C4DF and TWIN2X2048-8500C5D. The former is the fastest DDR2 module ever seen, and in an EPP capable system will immediately pick up at PC2-8888 (1111MHz) with 4-4-4-12 timings, with guaranteed operation at 2.4V. The Airflow cooler is included. The latter will run in EPP at PC2-8500 (1066MHz) with 5-5-5-15 timings and 2.1V, but the Airflow cooler will be an optional accessory.
The price is where it'll hurt. Corsair's high end modules are already under pretty tight screening and so prices are high. These new models are pricier still, the PC2-8888 part expected to cost in the region of £400-500 for 2x 1GiB, when it hits UK e-tailers in the next week or so, depending on how many enter the channel. The PC2-8500 part should be slightly more favourably priced, hopefully costing only around £10 more than Corsair's non-DHX PC2-8500 SKU.
Samples are headed to the HEXUS.labs, so we'll bring you a performance evaluation in due course!