...with a little help from some friends.
Now here's a good bit of publicity for Corsair, DDR2 memory and AMD's socket AM2. K|ngp|n, or as he's known in Real LifeTM, Vince Lucido, has clocked his way to the top of the 3DMark scoreboards in the 2006, 2005 and 2003 versions of the benchmarking software.
The is, in part at least, down to Corsair's TWIN2X2048-6400C3 2GB kit "rated at true low latencies of 3-4-4-9" and supporting the new EPP technology (like an SPD chip for overclocking, if you will.).
Also in the system used by Vince was an FX-62 AM2, GeForce 7900GTX - two in SLI, in fact, running on a Foxconn C51XEM2AA motherboard. Corsair sent us a pic of the feat, taken just a few days ago...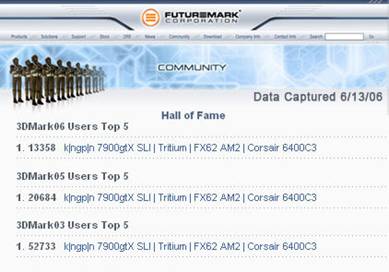 Congrats to K|ngp|n, a person clearly leet enough to be worthy of the triple crown.