Corsair is attempting to woo the really hardcore enthusiast with the release of ultra-high-speed DDR3 memory.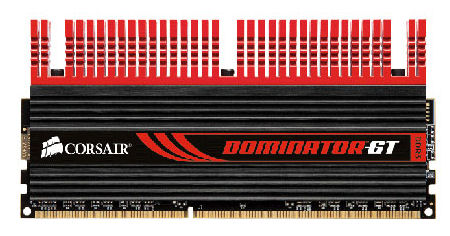 Dubbed Dominator GT GTX6 DDR3 and intended to be used for bleeding-edge attempts at breaking PC hardware world records, Corsair newest memory is designed for speed above all else, it seems.

By reducing module capacity to 1GB and manufactured using a single-rank, single-sided system. Corsair says it is able to screen GTX6 modules at 2,625MHz - or PC3-21000 - at 9-11-10-30 timings with 1.65V DIMM voltage and 1.45V VTT. The frequency figure is around 100MHz higher than the fastest dual-channel packs available today.

Obtaining such sky-high frequencies needs very selective accompanying hardware, and 2,625MHz certification involves using 'specially selected' Intel Core i7 860 and 870 CPUs and a Gigabyte P55A-UD5 with an F10 BIOS. In other words, these are super-tuned modules that aren't designed for everyday use.

Backing up this fact: "What can I say, except these modules are fast. Really fast," stated John Beekley, Vice President of Technical Marketing at Corsair. "While not really designed for day to day use, these modules make superb weapons for your overclocking arsenal."

Corsair has found that 2,600MHz is achievable when running two 1GB GTX6 sticks together, but we imagine that the LN2 crowd, who salivate for frequency records, will push single modules further.

According to this blog, Corsair has managed to hit almost 2,976MHz with a 1GB GTX6 DIMM, and we don't imagine it will be long before the 3GHz barrier is breached.

Screening for such high speeds doesn't come cheap, as the 1GB stick retails for $175. Want to set a world record? The GTX6 may be a good place to start. Folks who don't know what LN2 is need not apply.