Memory-supremo Corsair already has itself a set of blazing-fast tri-channel DDR3 DOMINATOR modules operating at 1,866MHz, but now it's teasing something new...
Officially unveiled today and expected at retail in the "very near future" are a set of mean-looking modules that'll go by the name of DOMINATOR GT.
The kit, pictured below in tri-channel form for Intel's X58 platform, consists of three 2GB modules that'll hit 2,000MHz at just 1.65V with low latencies of 7-8-7-20. That's pretty damn fast, and the low voltage should leave ample room for pushing these beauties a whole lot further.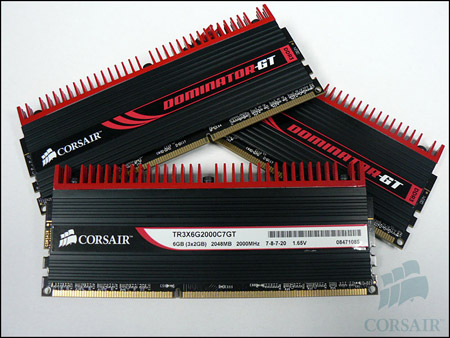 We're almost certain to see benchmark-smashing results when these arrive on the scene, and though there's no mention of price just yet, they're likely to make holes in even the thickest of wallets. We'll take a guess and say $650 or more.